Brits move even closer to double medal European Championships success
Thursday 22 August 2019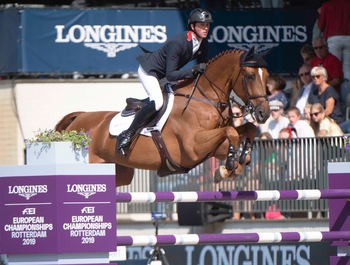 Day two of the European Championships started for the jumpers today with the first round of the Team competition and it was yet another great day for the Brits which saw Ben Maher and Explosion W, owned by Poden Farms, move into the Gold medal position on the Individual leader board and the Brits climbed a place into 3rd position on the Team standings. Looking ahead to tomorrow, Great Britain are also in the hunt for a place at the Tokyo 2020 Olympic Games.
For Ben, who had started the day in Individual 3rd, it was another phenomenal clear with the 10 year-old chestnut gelding Explosion W which saw them climb two places to sit in pole position on the Individual leader board. With both Peder Fredricson (SWE) and Max Kuhner (AUT) both having a fence down today it saw their respective leading positions of last night fall by the wayside and allow Ben to push through in their place.
The 1.60m course, designed by Louis Konickx of The Netherlands, once again took in lots of twists and turns across the arena for the seventeen jumping efforts it required but it was the water jump that once again proved the most problematic.
Explosion however found no questions asked of him too difficult to answer and posted an incredible clear much to the delight of the British camp in his role of pathfinder today. Talking afterwards Ben said of the exceptionally talented horse "He was in great form. I was happy to go first for the team today and he's really settled into his rhythm. It was a great course and when you get a combination at the end of it it's always harder, but when you are sitting on the quality that Explosion is, it just makes your life that bit easier. He's intelligent, he's smart and he wants to do it. My job is to just keep him relaxed and try and guide him round the course the best I can."
Ben's round certainly set the team off with a strong start. Second to go Holly Smith with TJ Hall Ltd's 10 year-old bay gelding Hearts Destiny posted a second clear for the Brits. Yesterday had seen them have the misfortune of a foot in the water however there was no such error for them today when they delivered a foot-perfect clear to return home on zero penalties to add. Reflecting on her round once she had got off, Holly said "He [Heart's Destiny] was absolutely unbelievable and I honestly believe he is one of the best in the world and he showed it today. The course was pretty full on straight from fence one and the time is tight. I had a foot in the water yesterday, a lot of people are having that today as well and I was just determined that I wasn't going to let it happen to me again. So after I jumped that I had to have a word with myself to calm down a bit! So we settled things down and then took Ben's advice to just jump every fence as it comes in the combination and then on to the last. I am just so happy with him and thank goodness I'm over the water is what I say."
Next to go was Amanda Derbyshire with the 11 year-old bay mare Luibanta BH owned by Gochman Sport Horse LLC. For them, it was a foot in the water which saw them pick up 4 penalties with a further 4 being awarded when they touched the top pole of the first element of the Longines branded combination. On their score Amanda commented "It was absolutely my fault at the water. She really tried but it was a rider error not hers and she was just unlucky to lower the pole of the combination. She was absolutely trying her best and I just hope we don't make the same error again tomorrow."
Last to go for the team was Scott Brash with Hello M'Lady, the 13 year-old bay mare owned by Lady Kirkham and Lady Harris. Once again, she looked incredible but it was the water fence that caught them when a foot in the water saw 4 penalties added in what was otherwise a superb round. On coming out of the ring Scott said "I'm delighted with M'Lady. She jumped fantastic and it's just a pity at the water. But each day gets better and I'm overall really pleased with her."
For Di Lampard, World Class Performance Manager, it was most definitely an extremely successful day for the British Camp. Looking ahead to tomorrow Di said "I am really pleased with where we finished and we are in a really strong position. It's nice to be where we are and still going up that ladder as a team and to have Ben leading individually. The horses came out of the ring very well and very fresh, the riders are in a fantastic place and the four of them are working brilliantly together. We are in a great position for this stage of the performance and I'm really looking forward to the Team Final tomorrow and progressing towards the individuals. I've been waiting twelve months for this week and it's all coming to fruition and we've now just got 24 hours to go and I am looking forward to tomorrow with great optimism."
Great Britain moved up into the Bronze medal position after today's competition and hold that place on a total score of 13.41 penalties. Belgium currently hold the Gold medal slot on 11.07 penalties with Germany in Silver on 12.22 penalties.
Alongside the medals, there are also three Olympic qualification spots available for Tokyo 2020 and six nations remain in contention for these. The nations competing for these tomorrow, along with Great Britain, will be Belgium, France, Italy, Ireland and Denmark.
Tomorrow will see round two of the Team Final start at 2.00pm (BST) and it will be available to watch live via the BBC Red Button.
For the full results from today, visit https://bit.ly/2zeDGuE.
The British senior teams are supported by the BEF's UK Sport National Lottery funded World Class Programme.