British Showjumping's Team Cavalor Secure Equal Third in Falsterbo CSIO5* Nations Cup
Friday 08 July 2016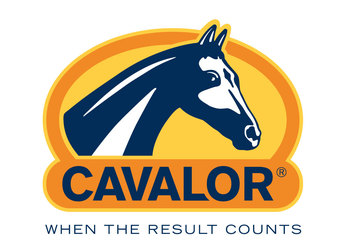 Strong performances from the British Team this afternoon saw them secure equal third in the Falsterbo CSIO5* Nations Cup in Sweden. The Brits, who compete as Team Cavalor, jumped under the guidance of Chef d'Equipe Tony Newbury, and they delivered some textbook rounds over the Guilherme Jorge built track.
The British quartet finished in equal third with Brazil and The Netherlands and they were all behind Switzerland and Sweden who took first and second place respectively. The course saw seventeen clears delivered in round one, and although the course designer beefed up the track for round two, such was the standard of the riders and horses, the clears just kept on coming.
Round One
Tim Stockdale from Roade, Northamptonshire took on the role of team pathfinder on board Marjorie and Clark Glasgow's 11 year-old bay mare Fleur de L'Aube. In an otherwise faultless performance, Tim and Fleur de L'Aube picked up a frustrating four faults at the water when Fleur took a second look at it, causing her to dip her toes. Over the variety of other fences though, the combination never looked like having a fence.
Next in was Tim Wilks from Henley on Thames, Oxfordshire and he put a clear round on the board for Great Britain with Quelbora Merze, a 12 year-old chestnut gelding owned by In Showjumpers. The pair jumped with great accuracy and pace and in doing so, delivered a perfect round.
Emma O'Dwyer from Churchdown, Gloucestershire took up position as the third rider with the 10 year-old bay gelding HHS Figero, owned by Joanne O'Dwyer. Emma picked up an unlucky four faults at fence seven, which was deemed by many as the joker fence as it was a narrow square poled vertical which followed the water jump. Emma and HHS Figero jumped the rest of the course immaculately.
Joe Clayton from Huddersfield, West Yorkshire was last to go on Con Man JX, a 9 year-old bay gelding owned by Sarah Billington and they also picked up an unfortunate four faults in an otherwise clean and precise round.
Round Two
Going into the second round, Great Britain sat in sixth place on eight faults, but with it all still to play for, some very strong performances followed.
Using his wealth of experience, Tim steered Fleur de L'Aube to a confident clear round to set the bar for the British Team and he was followed by Tim and Quelbora Merze, who put in an extremely impressive performance for a double clear.
Emma gave HHS Figero plenty of encouragement to produce a clear round, posting the third in a row for GB. Unfortunately, it wasn't to be for Joe and Con Man JX in their second round and they finished with seventeen faults.
Final Placings
With the Brits adding nothing to their first round score of eight faults, they climbed up the leader board to finish in equal third alongside Brazil and The Netherlands.
The Swiss riders were impressive from the outset, clocking up three double clears to finish on a zero score. Their results meant that their fourth rider didn't need to jump in round one and that also gave him the opportunity to just familiarise the horse with the arena over a few fences in round two.
Sweden gave their home crowd something to cheer about as they took second place on four faults and with two double clears in the bag.
All attention now turns to the Grand Prix, which will take place on Sunday 10th July at 14.00 hrs local time.
For full results and further information on the show, visit www.falsterbohorseshow.com. Full information in respect of the Furusiyya FEI Nations Cup series can be found by visiting www.fei.org.
British Showjumping would like to thank Cavalor, who are the title sponsors of their Senior Nations Cup Teams. More information on Cavalor and their products dedicated to the nutritional needs of high performance horses can be found at www.cavalor.com/uk-en.
The British Jumping teams are also supported by the Equestrian World Class Programme.
The programme, which encompasses both Podium and Podium Potential squads, focuses on identifying talent, developing potential and maximising medal winning performances on the world stage. The Programme has been funded by the National Lottery via UK Sport since 1998 and is a portfolio within the British Equestrian Federation.