BOLESWORTH YOUNG HORSE CHAMPIONSHIPS & 2* INT'L
Monday 19 August 2019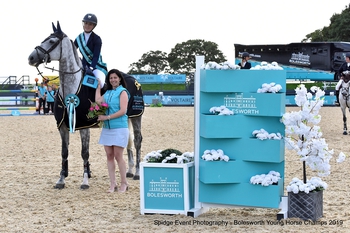 British breeding put on a world class display at the Equitop Bolesworth Young Horse Championships as youngsters got the chance to compete and gain invaluable experience in the moat-surrounded International arena.
Extra incentives for British-bred horses in the form of £4,000 bonus cash prizes in each age category for jumping clear every day and qualification for the FEI World Young Horse Breeding Championships in Lanaken, Belgium, in September were also up for grabs.
Matt Sampson and Sean Conway's talented British-bred Ivory jumped into the spotlight to take the hotly-contended prestigious Windmill Farm Estate 6-year-old final.
With twenty-nine forward to the jump-off from fifty-five starters, victory was no fluke, Matt skilfully easing the scopey, ultra-careful Don VHP Z x Cartogran mare into a 0.29 seconds win.
Sheffield-based Matt took over the ride from Joe Trunkfield in March.
"She is an out-and-out winner and just gets better and better – she really is one for the future and never disappoints," said Matt, who has also won 6-year-old classes in Europe on the reigning Welsh Masters six-year-old champion. "We'll keep her ticking over before Lanaken in one or two smaller classes without any pressure now."
Pippa Funnell guided two home-bred Billy-prefixed horses into second and third; Billy Marmite (Billy Mexico x Vechta) finishing in second ahead of stable-mate Billy Serafina (Tangelo Van De Zuuthoeve x Billy Congo) in third.
"I'm thrilled with these two, they've been fabulous all week and are very special," she said.
James Shore slotted Emerson Tough's MEC Look At Me (Luidam x Armstrong) into sixth to take the fourth best British-bred Lanaken ticket.
The top three took a sixth share of the 'clear round' bonus alongside Alex Hempleman and the fourth-placed Belgian-bred Jammy Dodger II and Phillip Miller with Brendon Stud's home-breds Klaris Yee-Hah (Don VHP Z x Caretino Glory) and Don Royale (Don VHP Z x Orville) in seventh and ninth.
Joe Trunkfield claimed the Shaw Farm Stud 5-year-old championship with Emma Sweeney's Kade Hof Ten Zoetendaele Z with two seconds to spare in a 17-horse jump-off, yielded from 58 starters.
"She's quite small but actually very rangy. I only ride her at shows, Emma does all the fitness work at home," said Joe, on the Kastar Hof Ten Zoetendaele x Ahorn mare bought by Emma off a video.
Keith Shore eased the British-bred Mystic Magic – an Asterix E Z x Handel mare owned and bred by Betty Brandon – into second place.
"She was broken in as a three-year-old and has only competed in around 20 classes in her life. We've kept her ticking over without asking too much and she finds the job easy. This was her first stay-away show and she a very exciting horse for the future," said Keith, who took the top Lanaken place.
Fourth-placed Pippa Funnell on Billy Lambert (Cevin Z x Andiamo), Ben Dunning in eighth with his own and Mark Dyer's RSH Innovation (Odermus R X Darco) and ninth-placed Phillip Miller with Emma Ziff's Klent Kick On (Warrior x Caretino Glory) are also set to compete in Belgium in September after jumping double clears in the final.
Seven jumped clear every day for a share of the bonus – Joe on Kade, Keith with Mystic Magic, Bethanie Knight on Julius, Pippa with Billy Lambert, Ben on RHS Innovation, Phillip with Klent Kick On and Mattie Lanni aboard Jacpot (Arezzo VDL x Voltaire).
Adrian Whiteway lifted the 7-year-old title with Selina Milnes' Cooley Network, an Irish-bred Boswell Mr Heartbreaker x Corando gelding he describes as "The best young horse I've ever had."
Twenty of the initial 53 in the final contended the jump-off with Adrian claiming almost two seconds in hand.
"The course took some jumping but he found it easy – he's talented although can be difficult but I know if he's fresh he will probably go his best," said Adrian.
A rail down for Angelie Von Essen and James Davenport's One to Go dropped the Argento x Asher mare down to 14th but they were the best of the British-bred horses to take a place at Lanaken.
Four horses claimed a £1,000 each for the clear round bonus, all with European bloodlines – Adrian and Cooley Network were joined by Ben Walker on Heidiemorka, James Smith with HBF-Delmar and Jess Dimmock's Haitske.
2* CLASSES
Annabel Shields took full advantage of Creevagh Carisma's huge stride to land the feature 2* grand prix with a breath-taking round of skill and daring.
Thirteen of the fifty starters came forward to the jump-off, the ten initial clears joined by two on time faults and the fastest of the four-faulters. But these fell back as six riders provided double clears and it was all about the clock.
Annabel started riding Camiro De Haar Z nine-year-old 15 months ago from Foxhunter grade and the trusting bond between the two was on full display as they easily took out strides down every distance.
"I have a lot of trust in her. She has stepped up to the bigger classes in recent months and just gets better and better. She has a big stride which really helped save time as there was quite a bit of galloping between fences," said Annabel, who has recently bought the Irish-bred mare from former owner Victoria Gibson.
The experience of locally based Irishman Anthony Condon looked set to topple their lead with the Hales family's Zira VH Kapelhof Z but despite a serious challenge, he could only come within 0.49 seconds for second place.
Louise Simpson's standard setter on new ride of two weeks Charlotte Platt's home-bred 11-year-old Verdi stallion Jenson 55 claimed third just ahead of Jake Saywell with Havinia Van De Roshoeve in fourth.
Jake Saywell landed the 2* 1.45m grand prix qualifier with Touch Of Chilli in a 68-horse two-phase with 0.23 seconds in hand over Annabel and Creevagh Carisma.
"He's a lovely character and a gentleman but very competitive, fast and careful and wants to win as much as I do," said Jake, on the Out Of Touch 15-year-old gelding.
Cheshire-based Keith Shore claimed the opening 2* 1.40m two-phase at his local International show, holding back the challenges of 84 rivals to win by 0.54 seconds on the Parco 11-year-old Iron Lady Van T Meulenhof.
"It's always good to have a win so close to home, she's a talented mare and we have a great partnership," he said.
Louise Simpson claimed Thursday's 74-strong 1.30m two-phase by just 0.05 seconds on Unex Cognac IV, triumph winning over adversity following a difficult year for the Unaniem 11-year-old.
"He had an eye removed eight months ago and we've taken our time to bring him back and will continue to build his confidence. Although I'm aware of giving him an extra stride when turning on certain angles, the operation doesn't appear to have bothered him," said Louise.
Louise Saywell took second here and went on to take her own win in Friday's 61-horse 1.30m two-phase with Graham Ward's speedy Feigtling with 0.90 seconds in hand.
"He's great against the clock and very adaptable. He always tries 100% and we keep him fresh by not over-facing him jumping a ranking class then a speed to make sure he's sweet and enjoying the job," said Louise, on the Chicago Z x Darco 14-year-old.
Louise Saywell and Feigtling again had to settle for second in Saturday's 1.30m in a 19-horse jump-off as newly-crowned National Champion Harriet Nuttall raced to the top with the speedy Silver Lift.
Just 0.12 seconds separated the two in the highly competitive class, Harriet maximising on her final draw with the Easy Lift x Silver Cloud 14-year-old.
"We know each other inside out and have so much trust and confidence together. He doesn't waste any time in the air which is really what wins classes," said Harriet, on her partner of eight years.
Annabel Shields skipped round Friday's John Whitaker International 1.35m two-phase with long-term partner of five years and "best friend" Wet Wet Wet.
"He's had a bit of time off, we're just getting going again before moving on to bigger tracks. You shouldn't have favourites but he's my best friend and such a star, I wouldn't be without him," she said on the Mr Blue 16-year-old.
Matt Sampson was 0.56 seconds in arrears with Firefly W but went one better in Sunday's mammoth 87-strong 1.35m two-phase on the Nabab De Reve x Voltaire nine-year-old.
"It was a fast class and took some winning but he's a great horse," said Matt, after winning by 0.32 seconds.
Millie Allen secured victory in Thursday's 56-horse John Whitaker International 1.35m two-phase with Catherine Passmore's Corand x Quick Star 12-year-old Catara 4.
"She's a naturally quick mare with plenty of confidence; I was early to go and moved on," said Millie.
Alfie Bradstock with the big-jumping, energetic 12-year-old H D'Or and Elliott Smith on the Cardento nine-year-old Flamboyant III delighted the crowds watching the Theraplate Puissance. They cleared the wall standing at 2.20m in a three-way decider in the fifth and final round to share the honours.
Twenty-one-year-old Georgia Tame dominated the John Oates Horseboxes under 25 series with two wins and a second place on new ride Jeff Ten Halven, a 10-year-old with Toulon x Crown Z bloodlines.
After taking the first leg and finishing second in the second leg to Joe Fernyhough and Calcourt Quicktime, the pair claimed victory in the 28-strong championship in a two-way decider.
"I jumped him for the first time at the British Showjumping National Championships just to get used to him. He's a big horse and has so much scope my job is to contain him and ask him to wait for the fences," said Georgia, who is based at Hickstead with Shane Breen. "No doubt Shane will now want him back."
Joe, 18, pushed Georgia into second by two seconds on day two with his father Rowland's home-bred Westpoint Quickfire x Larino nine-year-old Calcourt Quicktime.
Image: Annabel Shields with Nina Barbour