BLUE CHIP WINTER SHOWJUMPING CHAMPIONSHIPS 2019
Monday 15 April 2019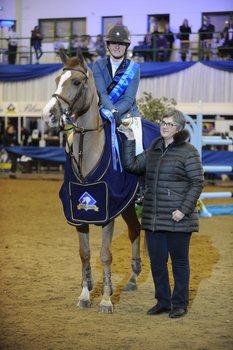 Nicole Pavitt brought the Blue Chips Championships Gala Night to a thrilling conclusion with a spectacular jump-off round to secure victory in the Blue Chip Grand Prix on her mother Sandra's 9-year-old mare Paris 16.
Course-designer Nigel Jess's 13-fence track asked distance and scope questions to yield seven from forty-two starters for the jump-off with Nicole's mid-draw round drawing gasps from the audience as she took tighter and tighter turns.
"I had a long stride to the double and had to kick but she's scopey and it is great to have a home-bred jumping at this level," said Nicole, who made the trip from Sussex just for this class. "It was a great course and a fabulous atmosphere."
Second and third both had two rides in the jump-off but no-one could catch Nicole. Oliver Fletcher used his final draw to slot Temple Rebus into second place with Rose Moss taking third with her opening round on African Affair.
Adrian Speight landed the Blue Chip Pro Challenge Trophy in a thrilling jump-off with Judith Whitham's Millfield Baloney. A testing 12-fence track whittled the 59 starters down to 13 for the jump-off with spectators enjoying the spectacle as riders dared with tighter lines and a daring gallop to the final oxer.
But no-one was quicker than Adrian and the Balou Du Rouet 13-year-old Baloney and they powered over the last to secure victory.
"He has so much ability he makes it easy for me, I put my leg on and he answers," said Adrian, who has ridden Baloney since November.
Late-drawn Dan Delsart made a supreme effort but was just 0.04 of a second outside to take second on Lord Quidam.
Chloe Reynolds confidently sliced across fences and made a trusting dash to the final oxer to secure the Blue Chip Dynamic B and C in a 24-horse jump-off with the Numero Uno 8-year-old Grenadier Volo – a former winner of the Big Star 6-year-old National Championship.
"We travelled up specifically for this class and it's great to win again here, he loves the atmosphere at this show," said Chloe, who won the Blue Chip Karma performance title two years ago.
Bex Mason celebrated her birthday in style with the Blue Chip Karma Performance Championship with the final round in the 19-horse jump-off on David Fudge and Team Crows Nest's home-bred Vancurtis.
"She's our horse of a lifetime, she's made dreams come true already," said Bex, after winning with 0.48 of a second to spare on the Vangelis x William Curtis 7-year-old.
South Yorkshire-based Devon Grimes outpaced her thirty-two jump-off rivals to take the Joshua Jones UK Discovery championship by 0.22 seconds on the 14-year-old Miss Silver Dollar, a daughter of the Irish Draught stallion Rebelara bred in Yorkshire by Peter Wilson.
"She is so easy, careful and calm yet on the ball and you have to go for it once you've got here," said Devon.
Winning the 129-strong Voltaire Design 1m warm-up proved a good omen for Lydia Norton as she proceeded to claim victory in the Blue Chip Joint RLF Power Championship with her 10-year-old 3* eventer Painted Moon.
"He is so careful and jumping across country helps a lot when we angle fences in the jump-off," said Lydia, after winning her first rug – "I've been coming here since I was 12, I loves this show and it sets us up for the eventing season."
Emma-Jo Slater landed the Voltaire Design Novice Championship with Kim Barzilay's home-bred Arkoniente x Heartbreaker 6-year-old Kimba Kasino by the slender margin on 0.11 seconds.
"This was the fastest he's gone against the clock, it was a bit of a shock to his system but he can be very sure of himself sometimes and thinks he knows best," said Emma-Jo.
Faye Adams outpaced her 10 rivals in the DDS Demolition 1.25m championship for victory on the consistent and speedy Demograaf, winning by 0.43 seconds.
"He's small – only 15.3hh – but doesn't know it and he is Mr Consistent in speed classes; I know when I get on him I'm going to have fun," said Faye, on the Quasimodo Z sired 11-year-old.
Katie Shaw and her sister Emma-Sargeant's home-bred Fools Business – an 18-year-old by It's the Business – galloped to victory by 1.04 seconds in the FMBs Therapy Systems Star Championship two years after they last won this title.
"He had a three month break and started again after Christmas and he got straight back into it," said Katie on the consistent gelding.
Georgia Sims claimed two rides in the Haygain Hay Steamers Diamond jump-off of five and won with the opening round on Cassina III with 1.41 seconds in hand.
"She's so easy-going and laidback but she's aged sixteen now so she's having an easier life, I'm not pushing her," said 15-year-old Georgia, who is based in Leighton Buzzard.
15-year-old Eloise Burden based in Bicester, Oxfordshire landed a double victory with her father Richard's Coolatooder Liath, taking the Blue Chip Pro Sparkle JC JA Championship and Voltaire Design coral title.
Eloise lifted the Pro Sparkle JC/JA title with a smooth, economical round with Liath.
Five JC ponies and three JA's from 37 starters provided round one clears to reach the jump-off, Eloise and the Irish-bred 13-year-old mare Liath posting an early round that proved unbeatable, winning by 0.78 seconds.
"She has a long stride and loves galloping, the jump-off suited us," said Eloise, who also claimed the Coral Championship in a three-way decider, winning from the front with the only double clear.
An early round flyer earned Elysia Heagren-Bond the Voltaire Design Pony Sapphire title on the consistent Attyrory Golden Lady.
"She's so scopey and has progressed very quickly," said Elysia, 13, who has ridden Kerry Grimster's 8-year-old for 12 months and is through to the Hickstead winter JC final after winning at Arena UK.
Megan Trott was crowned Eskadron Pony Discovery champion with Samantha Newbury Vincent's Quay, a 17-year-old former eventing mare she took over in November.
"I'm so grateful to Samantha for letting me ride her and I loved the crowd cheering us all on in the jump-off, the atmosphere is fantastic," said Devon-based Megan.
Neve Gill emerged triumphant in a competitive 29-pony jump-off to take the Pikeur Pony Novice Championship on Lord French to score her biggest win.
"He's as careful as a cat, jumps his heart out for me and is so handsome," said Neve, 15, on the 9-year-old bought a year ago.
VOLTAIRE DESIGN NOVICE CHAMPIONSHIP
1st Emma-Jo Slater & Kimba Kasino – 0/0 29.55 seconds
2nd Toni Evans & Umakit AS – 0/0 29.64 seconds
3rd Lydia Turnbull & Robe Summer Knight – 0/0 32.59 seconds
JOSHUA JONES UK DISCOVERY CHAMPIONSHIP
1st Devon Grimes & Miss Silver Dollar – 0/0 27.67 seconds
2nd Sophie Holliday & Elysian Delux – 0/027.89 seconds
3rd Molly Chandler & Belianus – 0/0 28.01 seconds
BLUE CHIP JOINT RLF POWER CHAMPIONSHIP
1st Lydia Norton & Painted Moon – 0/030.77 seconds
2nd Nicholas Edwards & Idodinus PP – 0/0 30.94 seconds
3rd Caroline Barnes & Smooth Lux – 0/0 32.28 seconds
FMBS THERAPY SYSTEMS STAR CHAMPIONSHIP
1st Katie Shaw & Fools Business – 0/0 32.93 seconds
2nd Max Swanne & Outcharm – 0/0 33.97 seconds
3rd Annabel Lomas & Vraiecocotte Berence – 0/0 35.12 seconds
BLUE CHIP KARMA PERFORMANCE CHAMPIONSHIP
1st Bex Mason & Vancurtis – 0/0 32.08 seconds
2nd Alfie Bradstock & Grand Cru I – 0/0 32.56 seconds
3rd Michael Potter & Haya Loma N – 0/0 34.46 seconds
BLUE CHIP PRO OPEN CHALLENGE TROPHY
1st Adrian Speight & Millfield Baloney – 0/0 31.25 seconds
2nd Dan Delsart & Lord Quidam – 0/0 31.29 seconds
3rd Will Fletcher & Sam W – 0/0 31.68 seconds
BLUE CHIP DYNAMIC B&C CHAMPIONSHIP
1st Chloe Reynolds 7 Grenadier Volo – 0/0 35.65 seconds
2nd Adam Ellery & Fairway – 0/0 38.00 seconds
3rd Jocasta Symons & Duffy II – 0/0 39.11 seconds
DDS DEMOLITION 1.25M CHAMPIONSHIP
1st Faye Adams & Demograaf – 0/0 36.89 seconds
2nd Will Fletcher & Tiger Bright – 0/0 37.32 seconds
3rd Bex Mason & Vancurtis – 0/0 37.33 seconds
BLUE CHIP GRAND PRIX
1st Nicole Pavitt & Paris 16 – 0/0 36.35 seconds
2nd Oliver Fletcher & Temple Rebus – 0/0 38.12 seconds
3rd Rose Moss & African Affair – 0/0 40.64 seconds
HAYGAIN HAY STEAMERS DIAMOND CHAMPIONSHIP
1st Georgia Sims & Cassina III – 0/0 29.76 seconds
2nd Georgie Hilton & Newtowns Dsicovery B – 0/0 31.17 seconds
3rd Lesley Mitton & Heart of Savannah – 0/4 29.95 seconds
BLUE CHIP PRO SPARKLE JC/JA CHAMPIONSHIP
1st Eloise Burden & Coolatooder Liath – 0/0 33.75 seconds
2nd Cleo Loizzo & Banner Girl – 0/0 34.53 seconds
3rd Ava Vernon & Whos Arco – 0/0 35.55 seconds
PIKEUR PONY NOVICE CHAMPIONSHIP
1st Neve Gill & Lord French – 0/0 33.88 seconds
2nd Sophie Price & Lough Derg Prize – 0/0 34.79 seconds
3rd Amber Cooke & Just A Jiffy II – 0/0 35.55 seconds
ESKADRON PONY DISCOVERY CHAMPIONSHIP
1st Megan Trott & Quay – 0/0 26.04 seconds
2nd Brook Tusler & Red Avenger – 0/0 28.72 seconds
3rd Amelia Hay & Wilkins Warrior – 0/0 31.47 seconds
VOLTAIRE DESIGN PONY SAPPHIRE CHAMPIONSHIP
1st Elysia Heagren-Bond & Attyrory Golden Lady – 0/0 26.20 seconds
2nd Francesca Mellor & Carramore Dot Com – 0/0 26.85 seconds
3rd Lila Hill & Oreo Patches – 0/0 27.85 seconds
VOLTAIRE DESIGN PONY CORAL CHAMPIONSHIP
1st Eloise Burden & Coolatooder Liath – 0/0 31.98 seconds
2nd Jake Myers & Macuta II – 0/4 31.60 seconds
3rd Ava Vernon & Major Obos – 0/4 34.88 seconds
Image: Nicole Pavitt and Paris 16 with Clare Blaskey from Blue Chip Feed (Credit: British Showjumping)