Antonia and Laura Triumph in Young Horse Qualifiers
Friday 16 August 2019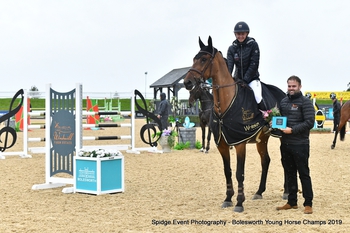 SEVENTEEN-year-old Antonia Platt was all smiles on winning the Windmill Farm Estate Six-year-old qualifier at the Equitop Bolesworth Young Horse Championships.
Based in Essex, Antonia's winning ride Imerald S is by the legendary Emerald out of a Corland mare.
Antonia bought the gelding from Robert Buckley in Ireland a year ago and she is combining studying for A'levels with show jumping.
Trained by David Simpson she is thoroughly enjoying the competition circuit and was thrilled with Imerald S' performance.
Said Antionia: "The young horse classes are a great grounding for the future and he went so well in the International Arena. He just keeps improving all the time."
There's was much delight from the team on the Equitop stand with Antonia an ambassador for the show's title sponsor.
Taking second place was Phillip Miller and the Brendon Stud owned Klaris Yee-Hah with third going to Chelsea Skelton and Easy Annie.
The Equitop Bolesworth Young Horse Championships is featuring 4, 5, 6 & 7-year-old age classes, incorporating qualifiers for the FEI World Young Horse Breeding Championships in Lanaken, held in September.
In the Equitop GLME Seven-year-old qualifier, Reading-based Laura Mantel and Muna vd Bisschop came out on top after a huge class.
The Belgian warmblood mare is owned by Sally Jobson Scott from Cornwall who bought her as a three-year-old in foal.
Said Laura, who also took seventh on Miss Tangelo: "She is a very talented mare and super careful. I jumped her in the two star classes at Bolesworth International in June so she is used to the International Arena which also helps."
Chris Smith and Flaming De Pravia, by the prolific stallion Je T'Aime Flamenco, took second much to his delight.
Said Chris: "He is owned by myself, Billy Twomey and Michael Quirke. Billy rode him in Dinard last week so he has experience of big atmosphere shows so wasn't phased here at all."
Picture Caption: Antonia Platt receives her award from Dan Wright of Windmill Farm Estate