Definite Entries for the Alltech FEI European Jumping & Dressage Championships 2009
Wednesday 19 August 2009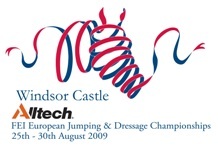 Worlds Top Riders Invade Windsor
in just five days time.......
With less than one week to go, organisers are pleased to announce definite entries for the Alltech FEI European Jumping & Dressage Championships 2009 (25-30 August).
The Championships are welcoming the best riders in the World to the magnificent showground within the private grounds of Windsor Castle
. 37 of the world's top 100 show jumpers and 33 of the top 100 Dressage combinations are taking part at these landmark Championships, where for the first time, both disciplines will be held together.

To view the complete list of horses and riders competing at Windsor, please click here.




Ticket Information:

Tickets for the Alltech FEI European Jumping and Dressage Championships 2009 are priced between £7 and £49 (£7, £10, £16, £22, £25, £28, £35, £45, £49). The box office telephone numbers are 0871 230 1087 (UK

) and + 44 115 993 4409 (International). For online ticket bookings and further information of the confirmed programme of events please visit www.alltechwindsoreuropeans.com Tickets can also be purchased through Windsor Information Centre with discounts available for Advantage Card Holders. Please contact the centre on 01753 743907 for full details.