Alltech FEI Jumping and Dressage European Championships - Preview
Friday 21 August 2009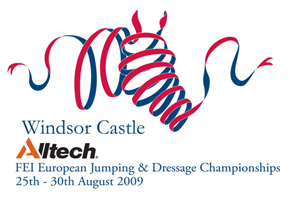 The Alltech FEI European Jumping Championships are a fascinating prospect. Can German super-star Meredith Michaels-Beerbaum secure back-to-back individual titles, even without the great Shutterfly? And can The Netherlands repeat the team gold medal winning success they enjoyed in Mannheim two years ago?

Germany has had a rock-solid grip on the individual jumping honours since 2001 and holds the record for the greatest number of victories - 14 in total since the first Championships took place in Rotterdam back in 1957. Only eight riders turned up to contest the title that year when the legendary Hans Gunther Winkler stood top of the podium, but 52 years on, a total of 91 competitors from 24 nations will be lining out in the lovely surroundings of Windsor Castle in England next week.

ITALIAN SURPRISE

This summer the Italians sprung a surprise when, having failed to make any impression on the series until then, they produced a sudden burst of brilliance to win the final leg of the Meydan FEI Nations Cup™ series in Dublin two weeks ago. With their new coach, the now-retired Swiss rider Markus Fuchs, spurring them into action who knows what they might be capable of achieving at the forthcoming fixture. They have never succeeded in winning the team title since it was first introduced at Munich in 1975, but Italian riders have twice won individual gold, although you have to go back to Rome in 1963 for the last success recorded by Graziano Mancinelli with Rockette.

The Dutch defenders look a powerful force and Chef d'Equipe Rob Ehrens is glad to have Angelique Hoorn back in his squad along with Marc Houtzager, Harrie Smolders, Jur Vrieling and Albert Zoer. The latter would be a particularly popular individual champion as spectators have a very soft spot for his lovable gelding, the high-stepping Oki Doki. Johan Heins is the only Dutch rider ever to have claimed the individual European honours when pipping Ireland's Eddie Macken by the smallest of margins in Vienna in 1977, but Holland has headed the team rankings on three occasions.

The Swiss side includes 2007 Rolex FEI World Cup™ winner Beat Mandli, while Sweden boasts the 2008 Olympic silver medal winning partnership of Rolf-Goran Bengtsson and Ninja la Silla. Sweden has never claimed either team or individual European gold but the Swiss have topped the team line-up three times and Willi Melliger rode Quinta C into individual pole position at Gijon in 1993. World Champion Jos Lansink and his magnificent grey stallion Cavalor Cumano were late withdrawals so 23 year old Pieter Devos has had a last-minute call-up to join Belgium's Niels Bruynseels, Philippe Le Jeune, Judy-Ann Melchior and Peter Postelmans. Austria, Ireland, Spain, Hungary, Norway, Poland, Portugal and Russia all send out teams of at least four riders, but Bulgaria and Finland have only three team-members each. After their Olympic performance last year the Norwegians must be a force to be reckoned with, while the Irish also look competitive with the Aachen Grand Prix winning partnership of Denis Lynch and Lantinus heading Robert Splaine's selection. The Irish took team gold in Arnhem, The Netherlands in 2001 and Peter Charles, who was on that side, also won the individual title for Ireland in 1995 but has since returned to British citizenship. He lines out for the host country next week.

PROSPECTS

With three of the top-10 riders in the Rolex Rankings including World No. 1 Marcus Ehning, No. 2 Meredith Michaels-Beerbaum and No. 9 Marco Kutscher on duty, Germany's Otto Becker must be feeling pretty good about his team's prospects. They were all members of the winning teams at both Donaueschingen, Germany in 2003 and San Patrignano, Italy in 2005 and Ehning and Michaels-Beerbaum were also in the winning German squad at Hickstead in 1999 along with Carsten-Otto Nagel who lines out this time along with Thomas Muhlbauer. Kutscher claimed the individual title in 2005 and Michaels-Beerbaum is the defending champion, although the absence of her great ride, Shutterfly, may prove significant as she attempts to make it two-in-a-row. The 39 year old Californian-born rider has decided to bring Checkmate to Windsor instead.

"Shutterfly is 16 this year - he's getting older and I thought the Championship would be too much for him. I'm really protecting him, he's been such a great horse for me, and I want the end of his career to be easy on him" says the defending champion. So Checkmate is getting his chance to show how good he can be and Meredith says "he's fit and in good form and I'm looking forward to next week".

When it comes to form however it is the French who everyone must fear. They have returned to the top end of team show jumping with a vengeance this season, their spirit second-to-none, their talent unmistakable and their energy irrepressible. After they scooped the 2009 Meydan FEI Nations Cup™ title a few short weeks ago Chef d'Equipe, Laurent Elias, said their success was due to their hunger to win and their close team relationship. Timothee Anciaume, Roger-Yves Bost, Olivier Guillon, Penelope Leprevost and Kevin Staut will be ones to watch for sure.

When it comes to dogged determination on the other hand, it is always the British who have the edge. Geoff Billington, Peter Charles, Ben Maher and Tim Stockdale put up an heroic performance in Dublin two weeks ago to finish joint-second in the Aga Khan Cup and along with Robert Smith they will be setting out to keep the host country flag flying high when the jumping action gets underway next Wednesday.

FACTS AND FIGURES

24 nations, 18 teams, 91 competitors

Germany has secured 6 European team jumping titles, Great Britain has won 4 and Switzerland and The Netherlands have each taken team gold on three occasions.

Germany has taken the European individual jumping title 14 times.

Germany's Meredith Michaels-Beerbaum is the defending individual champion.

The Netherlands will defend the team title.

The first Individual European Championship took place in Rotterdam, The Netherlands in 1957.

The first European Team Championship was held in Munich in 1975.


Ticket Information:
Tickets for the Alltech FEI European Jumping and Dressage Championships 2009 are priced between £7 and £49 (
£7, £10, £16, £22, £25, £28, £35, £45, £49). The box office telephone numbers are 0871 230 1087 (UK) and + 44 115 993 4409 (International). For online ticket bookings and further information of the confirmed programme of events please visit www.alltechwindsoreuropeans.com