Alltech FEI European Jumping & Dressage Championships 2009 launches Championship Radio Station
Wednesday 19 August 2009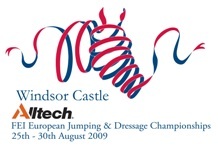 Organisers of the Alltech FEI European Jumping and Dressage Championships 2009 are set to launch a Championship radio station dedicated to the event.
Championship followers will be able to listen to live expert commentary for all of the dressage competition and some of the jumping competitions. In addition, the channel will be packed with live rider interviews, backstage stories and expert views of the championships.
Visitors to the event can purchase one of the special headsets from the radio or programme sellers in the showground for just £8 to last them the duration of the event. Alternatively, those who are unable to get to Windsor
won't miss out on any of the action, as they can listen to the station over the internet by visiting www.alltechfeiwindsoreuopeans.com
The commentary team for the jumping classes will be led by Steven Wilde. Steven is a regular presenter for Sky Sport, Eurosport and Horse and Country TV and a familiar voice on many show grounds around the country.
The classes that will be covered by the radio service are:
Friday 28th August Jumping Team Final and Individual 8.30am – 5pm
Sunday 30th August Jumping Individual Final 1.30pm – 5.30pm
Ticket Information:
Tickets for the Alltech FEI European Jumping and Dressage Championships 2009 are priced between £7 and £49 (£7, £10, £16, £22, £25, £28, £35, £45, £49). The box office telephone numbers are 0871 230 1087 (UK
) and + 44 115 993 4409 (International). For online ticket bookings and further information of the confirmed programme of events please visit

www.alltechwindsoreuropeans.com

Tickets can also be purchased through Windsor Information Centre with discounts available for Advantage Card Holders. Please contact the centre on 01753 743907 for full details.