Tuesday, May 22, 2018
Shropshire News
March 28, 2018
Training for Juniors and Seniors at Radfords Equestrian Suzanne Gill and Sarah Williams Stokes are kindly offering free training for Area members and non-members in the other arena BOOKING ESSENTIAL! Suzanne Galliers 07974152022/Jennifer Davies 07515287124/Sarah Williams Stokes 07854603468
November 27, 2017
Area 25 Annual General Meeting and Social Evening will be on Monday 27th November 2017 at 7.45pm The Four Crosses Inn, Bicton, Shrewsbury SY3 8EF

October 21, 2017
Tickets selling fast for our Annual Dinner Dance! Please book asap with Ceri Williams 07399591012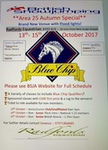 October 14, 2017
**************** Area 25 Autumn Spectacular ********************* 13th -15th October 2017 Blue Chip Qualifiers Please see BS website for full schedule 13th October - Senior/Junior Unaffiliated start 5pm 14th October - 9am Juniors 70cm intro -National 1.15m members 15th October - 9am Seniors British Novice - 1.25m Open RADRORDS EQUESTRIAN SY22...
September 23, 2017
Area 25 are offering A FREE TRAINING SESSION to prepare you for forthcoming competitions for members and non-members on Saturday 23rd September 2017 at Netley Hall BOOKING ESSENTIAL with Sarah Stokes 07854603468 Also running at the same time, at Netley, Alan Fazakerley Clinic (£40 per rider per session) Book with Sarah Stokes 07854603468
September 06, 2017
***Please see our BS Area 25 Facebook page for current news and Information***
August 03, 2017
Junior Academy Training with Di Fairclough This is a great opportunity for junior riders to chave their NAF books signed. Di will also be concentrating on preparing pony and rider for Competitions. At Radford's Equestrian Centre SY22 6LG Thursday 3rd August 2017 Half day: 10am-12pm or 1pm - 3pm - ...
July 18, 2017
Training with Alan Fazakerley at Springbank Farm, Halghton Lane LL13 0BW Book with: Vanessa Marmont 07971866685 or Toni Potts 07595622274 All welcome!
July 15, 2017
Congratulations to Faye McPhillips, Gemma Dennis, Izzy Watson and Ceri Williams for being selected for the area 25 team. We would like to thank everyone who put their names forward, it was a difficult decision! However we ask you all to be in our squad of reserves...
June 29, 2017
Training with Alan Fazakerley this Thursday at Netley Hall SY5 7JZ and Bank Farm SY5 9PH. Please book asap with Vanessa Marmont 07971866685 or Sarah Stokes 07854603468
June 01, 2017
Training at Netley Hall Thursday 1st June 2 riders per session £40 per horse/pony Please book with Vanessa 07971866685/Vanessa@vnmsporthorses.co.uk
May 30, 2017
AREA 25 Tuesday 30th May 2017 at 6.30pm Visit to TWEMLOWS STUD FARM Whitchuch SY13 2EZ Home of BIG STAR and ARKO! Area 25 have arranged a visit to Twemlows for a tour of...