Young Showjumper Emily Smart Shines for the South West
Friday 06 March 2015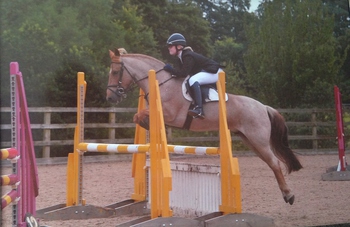 Thirteen year-old Emily Smart from Banwell, Weston Super Mare has much to smile about after being awarded the NAF Shining Star for February 2015. All British Showjumping Junior Academy Members are eligible for nomination for this award and it was Emily's dedication and enthusiasm that shone through for coach Anne Newbery.
Anne is a UKCC Level 2 Coach and she nominated Emily for the award "Emily is a keen and friendly member of the Bristol and Somerset Junior Academy and is always ready to welcome and talk to both existing and new members. She enjoys all of the training sessions and as a result of her regular attendance, we have seen her riding improve.
"Emily is always happy to help out with everything from putting up fences, poo picking and making cups of tea. At the recent South West Academy Camp, Emily not only prepared her pony for the final day of competition but also helped out her friends by plaiting their ponies as well. She is also very punctual and is always ready on time for her training sessions."
Becoming a member of the Bristol & Somerset Junior Academy when it first started some eighteen months ago, allowed Emily to take advantage of the progressive training available as she loves to jump. During her time as a British Showjumping member, she has been jumping courses of 0.70m and 0.80m and is planning on stepping up to Newcomers level (0.90m) in 2015 with her latest pony Lucky Petal.
"I was so shocked to hear that I had won this lovely award," said Emily. "I am really pleased to have had the opportunity to be put forward for this and I feel proud that the coach thought so highly of me. I love being a part of the Junior Academy, not only do I get to jump, but I've also made lots of new friends and have also been able to go to camp."
As part of her winner's prize, Emily will receive some NAF equine supplements to use alongside the products she is currently using which include In the Pink Powder to aid digestion.
Griselda Handy, Brand Manager for NAF, commented "Enthusiasm and determination is often the key to success with ponies and this is undoubtedly demonstrated by Emily, who obviously spends a lot of time with her ponies and therefore the partnerships become stronger and the success greater. It is clear Emily is a stalwart member of her Academy and a very good example to all which is why she is an excellent Shining Star."
With over 25 years of experience in Equine Supplement formulation and manufacture, NAF is the most respected and well-known brand of supplements for horses in the UK today. Using proven ingredients found in nature and creating unique effective formulations we pride ourselves on our unparalleled commitment to quality. We believe in using only the best natural ingredients, which are fully traceable and are combined to create unique formulas by our team of veterinarian scientists and nutritionists. The result is an extensive range of products, which are designed to offer you something for your horse's every need and details of these can be found at www.naf-equine.eu/uk.
NAF are Official Suppliers to the British Equestrian Teams and Business Partners to British Showjumping. The British Showjumping initiatives supported by NAF are the Five Star Performance Awards Programmes and the Junior Academy Shining Star Awards Scheme.