Training with Warren Lamperd
Sunday 22 March 2015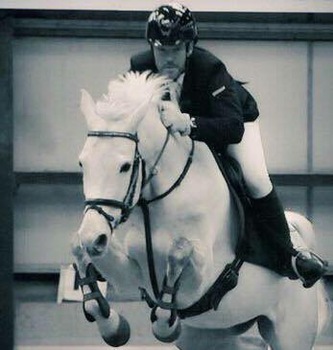 Sunday 22nd March (Daytime) - Warren Lamperd at Hill House Farm
(£35.00 per session, 3 Horses Grouped)
Contact Katie Smith to Book - katie-pike@hotmail.co.uk or 07977241769
Warren Lamperd is Aussie through-and-through, but has been in the UK for about fifteen years – arriving as a rider for World and Olympic champion, Sir Mark Todd.
Warren has competed in high level dressage, show jumping and eventing on a worldwide scale: Australia, New Zealand, Malaysia...; jumping at the Australian Showjumping Championships and various World Cup Shows. He also competed at the Australian Dressage Championships, winning his classes.
Warren has UK Coaching Council Level III qualification, with both British Showjumping and British Eventing, as just been excepted onto the Excel Coaching Program and is taking an MSc in Coaching Science so he can offer a more-rounded training programme, bringing in ideas from other areas, other sports, to deliver optimum performance to the highest international level. Helping you hone technique and improve your balance, using years of professional equestrian coaching knowledge and international riding coach experience.
Whether you're looking for a 'quick-fix' individual session or you want to invest in a long-term training and monitoring programme, as a specialist riding coach.
And whether you just want to get from beginner to intermediate or want precise advice on dealing with high pressure championship situations, and how to turn second place into first... As an internationally renowned equestrian coach, he'll have the right answers.
Understanding the essence of the 'Lamperd Method' begins with knowing that riding success relies on partnership. It's down to a team of two – horse and rider. Each depend on the other, whatever the discipline, whether it's dressage, show jumping, cross country or a combination of all three. Warren expertly tailors methods to suit a rider's specific requirements. Coupled with knowledge of how this will effect the actual horse, Warren produces a truly sympathetic synergy between horse and rider. A rider's technique and consequences upon the horse's performance are intrinsic.
The 'Lamperd Method' identifies the importance of returning back to basics and of being consistent. Warren ensures pupils understand why specific procedures are in place. As FRL Media suggests, 'Warren has a clear way of explaining as he coaches, he is happy to demonstrate and relates well to his pupils. His talent lies in giving concise explanations and techniques that the rider can easily apply'. Warren also quickly sees what both, 'rider and horse needs'.
"Training gives you the language to be able to communicate effectively with your horse, enhancing its performance rather than detracting from it."
"I focus on horse and rider as one. And set them both goals and targets. Nurturing each of them to help achieve their full joint potential. With the insights I have gained from both practical experience and the deeper understanding of the coaching process from my academic work."