Thomas Pritchard becomes the latest young showjumper to receive the NAF Shining Star Award for April 2016
Thursday 19 May 2016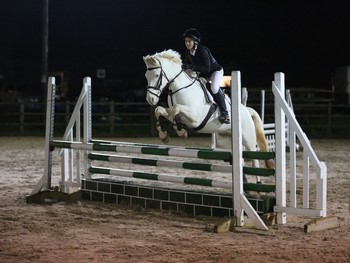 The NAF Shining Star Award for April 2016 goes to Thomas Pritchard. The 13 year-old from Flax Bourton, Bristol gained his nomination for his natural talent and desire to improve, as a regular attendee of the Bristol & Somerset Academy.
Thomas was nominated for the award by Jayne Smart, lead coach for the Bristol & Somerset Academy. Mandy had the following about her nominee: "Thomas is a joy to teach! He always has a cheeky grin but is serious about improving the way he rides and how his ponies go. He has a great rapport with his ponies and comes regularly to training along with his two younger sisters. He is very open to ideas, rides with a great natural flair and is the sort of talent I think we should nurture through the academies. He has the ability to progresses through the levels and with the continued support of his family he can go far in the sport. Congratulations Thomas!"
Beginning his riding career on board his first pony, Wally, at the age of three, Thomas went on to become a keen member of the Pony Club, trying everything thing from eventing to pony racing but it was showjumping that really caught his attention as, in Thomas's words, "it is the most fun equestrian discipline!" Thomas joined British showjumping in 2015 and began by competing in Pony British Novice and Stepping Stones classes. Competing at the Blue Chip Winter Championships earlier this year, Thomas was very proud to ride away with 10th place in the Animo Novice Championship and has hope of going to Scope and the Welsh Home Pony Show as well as being selected for the Academy teams at the County Shows.
Being part of the Bristol & Somerset Academy has allowed Thomas to grow in confidence. He is always looking forward to each and every training session with lead coach, Jayne Smart as she provides a supportive and encouraging environment, where a good dose of banter can often be heard.
Upon finding out he had become a NAF Shining Star, an amazed Thomas said "Wow – really? Are you joking? WOW!! I am really pleased!! The Academy has been a game changer for me – access to a fantastic coach as well as fun and inspiring friends to train with. I can't wait for our Academy Camp in the summer. The Academy has given me the confidence to aim to jump some of the Scope qualifiers this summer."
Thomas will kindly receive some NAF equine products to use alongside the supplements that he currently uses, which include; NAF Minty Treats and Love the SKIN he's in Skin Wash, frequently used on his mud-loving but sensitive cremello pony, Alpachineo.
Melissa Newman, NAF Brand Manager, further commented "'It is great to hear that Thomas takes his training seriously yet always has a smile on his face! Natural riders with flair are a great asset to the sport and it is excellent to see that his talent is being recognised and nurtured at his academy and by his family. Well done Thomas.'
The NAF Shining Star Award was introduced when NAF became a British Showjumping Business Partner. The award is for members of a Junior Academy who have shown a great deal of commitment, progression and outstanding behaviour along with their riding ability and much more. Riders are nominated by their lead coach, and then judged and awarded by NAF to one person each month.
NAF:
NAF is the most respected and trusted brand for supplements and applications for your horses in the UK today. Using proven ingredients and creating unique effective formulations NAF has an extensive portfolio of products designed to offer something for your horse's every need.
NAF are proud to be Official Suppliers to the British Equestrian Teams and Business Partners to British Showjumping supporting the NAF Five Star Training programme and the Shining Star Awards. Jessica Mendoza says "NAF have a great team of veterinary scientists and nutritionists, they are a big help to me and are there at the end of the phone with free advice if and when you need it, 0800 373106 or info@naf-uk.com."