The Jack Shearn & Jennie Bailey Trophy 2016
Tuesday 28 March 2017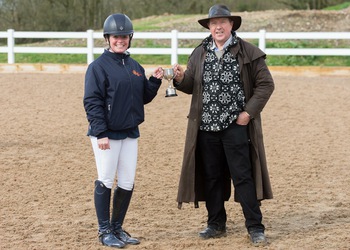 Jane Gregory of Chard Equestrian being presented the Jack Shearn & Jennie Bailey Trophy for her Contribution to the Bristol & Somerset Area.
Jane (a former member of the Bristol & Somerset Committee) had not only been working hard to create on of the best venues in the South West she is also the Title Sponsor of our Academy.
Please contact us if you have a recommendation for someone to receive this award for 2017.
Photo Courtesy of Rob Bayes Photography
HISTORY - Jack Shearn was Jenny Bailey (nee Shearn) dad's, Jack was a judge and ran Marksbury horse show for many years, (which was a big show back then) and a great supporter of both Jenny and British Showjumping.

Jenny Bailey (nee Shearn) was very successful whist competing at both juniors and seniors British Showjumping events. She was a judge, Bristol & Somerset Area Representative, Secretary of SWSJC (in its Bicton heyday) and for many years and helped run Marksbury horse show with her father. Jenny was instrumental in teaching new judges. She was a brilliant lady if not a bit scary at times!

Jenny started the the trophy back in 1995 in memory of her father who was a great support of show jumping and the Bristol & Somerset Area. Jenny's name was added in 2003 following her sudden death at the young age of 55.

The idea behind the trophy was to present it to someone who had contributed to the Bristol & Somerset Area on an annual basis.