The Jack Shearn & Jennie Bailey Trophy 2014
Wednesday 15 April 2015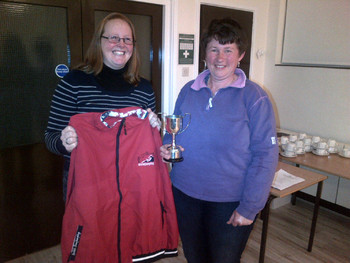 For outstanding Contribution to the Bristol & Somerset Area.
This year we presented the award to our amazing Junior Academy Co-Ordinator – Alison Tutt.
Alison spends many hours arranging & sorting Junior Academy training events, along with lead coach Jayne Smart to provide a solid training base for our up & coming junior members.
Since Alison took over the Junior Academy two years ago we have seen 52 different members attend the academy. 15 of these Academy Members have completed various stages of their NAF Pony Five Star Performance Awards with others just beginning and 3 of these Academy Members have been selected as NAF Shining Stars (Harriet Tutt, Georgina Allison & Emily Smart).
The Bristol & Somerset Committee along with it members are very grateful for the time & effort Alison dedicates to the Junior Academy.