Sponsorship Opportunities - Bristol & Somerset Area & Academy Shows 2019
Tuesday 05 March 2019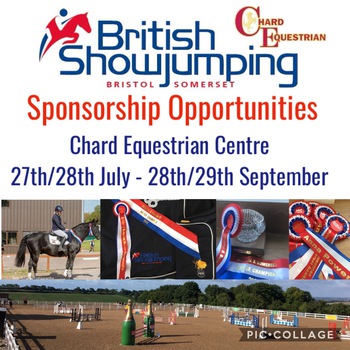 The preparations have begun for the Bristol & Somerset Area & Academy Shows.2019
This year the Area Show will be held on Saturday 27th & Sunday 28th July at Chard Equestrian Centre, the Academy Show will be held here on Saturday 28th & Sunday 29th September.
Jane Gregory & her team have been striving to make this showground one of the best within the South West with new facilities being added all the time, and we are thrilled to have the opportunity to hold our show here.
With the July Show clashing with the Welsh Home Pony, we are only offering a few pony classes on Saturday 27th, but we are offering a bigger selection of pony classes at the Academy Show in September.
Once again we will be looking for Class Sponsors at the Area Show, so if you are interested or know of anyone who might be, please do not hesitate to contact us.
We are always grateful of how ever much people can sponsors, and full class sponsorship isn't expected, as little as £30.00 can sponsor first place in a lower class with £450.00 sponsoring all prizes in a bigger class.
All Sponsors are offered refreshments during the show & advertisement on the Rosettes, Schedule, Website & Social Media pages.
July Full Schedule - https://members.britishshowjumping.co.uk/Scheduling/View/10003925
September Full Schedule - https://members.britishshowjumping.co.uk/Scheduling/View/10004405
Sponsorship £30 - £90 - Pony 70cm Open
Sponsorship £40 - £120 - Pony British Novice / Pony 80cm Open (3 Classes available)
Sponsorship £40 - £120 - Pony Discovery / Pony 80cm Open (2 Classes available)
Sponsorship £50 - £150 - Pony Discovery / Pony 80cm Open
Sponsorship £50 - £150 - Pony 95cm Open
Sponsorship £50 - £150 - Pony Newcomers / 1m Open
Sponsorship £75 - £225 - Pony Foxhunter / 1.10m Open
Sponsorship £150 - £450 - Academy Pony Team Competition
Sponsorship £50 - £150 - Senior British Novice (2 Classes available)
Sponsorship £50 - £150 - Senior 90cm Open (2 Classes available)
Sponsorship £50 - £150 - Senior Discovery (2 Classes available)
Sponsorship £50 - £150 - Senior 1m Open (2 Classes available)
Sponsorship £50 - £150 - Senior British Novice / Senior 90cm Open (2 Classes available)
Sponsorship £50 - £150 - Senior Discovery / Senior 1m Open (2 Classes available)
Sponsorship £75 - £225 - Senior Newcomers / Senior 1.10m Open
Sponsorship £100 - £300 - Senior 1.05cm Grand Prix (2 Classes available)
Sponsorship £100 - £300 - Senior Newcomers / Senior 1.10m Open
Sponsorship £100 - £300 - Senior Foxhunter / Senior 1.20m Open (2 Classes available)
Sponsorship £150 - £450 - Senior 1.30m Open (2 Classes available)
Sponsorship £150 - £450 - Academy Young Riders Team Competition
CONFIRMED SPONSORS FOR 2019
AR Equestrian
Alison Brown
Anna Power Showjumper
Tony Vaughn France
WeAre Embroidery
HKM Sports Equipment
Bizzy Horse
Silverfeet
Baileys Horse Feeds
Handmade Shoes (UK) Ltd