Silver Lift hits the heights at Bolesworth
Thursday 18 June 2015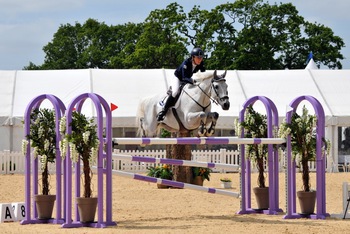 Harriet Nuttall and her speed machine Silver Lift wasted little time in making an impact at the Ashford Farm CSI**** Bolesworth International on Thursday.
Nuttall, who is based near Yeovil in Somerset, continued a highly-successful year on the 10-year-old grey gelding by winning the 1.40metre two-phase class, sponsored by A W Jenkinsons.
The Castle Arena's main feature class proved to be a thrilling spectacle, with Nuttall clocking a jump-off time of 29.89 seconds that gave her victory from Ireland's Captain Michael Kelly on Drumiller Lough, while James Smith and Tyson Uno finished third.
It was another classy performance by Silver Light, and acted as perfect preparation for next week's Hickstead Speed Derby, where Nuttall hopes he can go one better than last year's runners-up spot.
"He is a quick horse, and he is in his element at 1.40m," she said. "He has been winning a lot recently, taking a class at the Odense Nations Cup Show and in Lisbon.
"The Castle Arena is on a bit more of a slope than you would think, but he likes a bit of hilly ground and that really suited him today. I had a particularly good shot to the oxer fence up the hill.
"He is part-thoroughbred, so he has a good canter and is quick over the ground. He was second in the Hickstead Speed Derby last year, and he has got a very good record there."
And as for her first Bolesworth experience, which was boosted to the tune of a £1,485 top prize, Nuttall added: "It is my first year competing here. The facilities are great, and the arenas are stunning."