SEIB Celebrate Second Successful Winter Novice Championship
Thursday 30 July 2015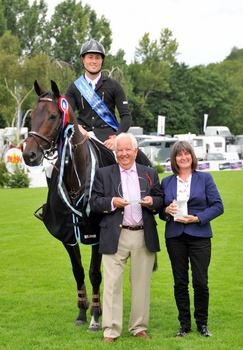 Adrian Whiteway showed his winning ways yesterday with a performance that resulted in him and his own 8 year-old dark bay gelding Cojack being crowned the SEIB Winter Novice Champions 2015.
Adrian made the worthwhile journey from Wraxall in Bristol to contest the class which was held during the Longines Royal International Horse Show at Hickstead in West Sussex (28th July – 2nd August 2015) and he fought off twenty-three other riders to become Champion.
The qualification campaign for the SEIB Winter Novice Championship started back in October last year and continued all the way through to March. Eleven qualifiers were held at venues all over the country and horses and riders travelled the length and breadth to secure a place in the prestigious Championship. There was also a last qualifier held at Hickstead on Tuesday. Yesterday's class saw nine combinations make it through into the jump off and five double clears were produced in total.
Adrian and Cojack achieved their qualification at Hartpury College in March after delivering a double clear in a quick time. Drawn midway to go in yesterday's jump off, the pair achieved two immaculate rounds once again to power through the finish line in just 39.41 seconds.
Millie Allen from Stockton-On-Tees, Cleveland and Senator Little Lusario, a 6 year-old black mare owned by Senator International were the only other combination to break the 40.00 seconds barrier with a double clear. After finishing second in this Championship last year, Millie was aiming to go one better, but was pipped by just 0.08 seconds after leaving all of the fences standing in 39.49 seconds.
Finishing up in third was James Emblen from Woking, Surrey and he was on board Rosgan Divinty, an 11 year-old bay gelding owned by Emma Grant. Their double clear was clocked up in 40.55 seconds.
SEIB Winter Novice Championship – Wednesday 29th July 2015
1st Adrian Whiteway & Cojack – 0/0 – 39.41 seconds
2nd Millie Allen & Senator Little Lusario – 0/0 – 39.49 seconds
3rd James Emblen & Rosgan Divinity – 0/0 – 40.55 seconds
4th Emma Slater & Kimba Flamenco – 0/0 – 40.84 seconds
5th Carla Bolam & Elia – 0/0 – 44.11 seconds
6th John Crippen & Carrighill PJ – 0/4 – 38.33 seconds
Image Credit: Spidge Event Photos - www.spidge.co.uk
SEIB:
SEIB Insurance Brokers formerly known as South Essex Insurance Brokers are in the top 75 brokers in the country and have been in business for over 50 years. SEIB Insurance Brokers specialise in niche markets and equestrian insurance is a large part of the business. Communication is an important key to the company's success and the ability to talk to people, explain policies and help with problems is regarded as its greatest asset and is the reason they have won many industry awards for customer care. SEIB Insurance Brokers have competitive rates for horse, horsebox, trailer, homes with stables, liability and anything else equestrian. Call for a quote on 01708 850000 or please visitwww.seib.co.uk.