National Team Qualifying Rounds
Sunday 26 June 2016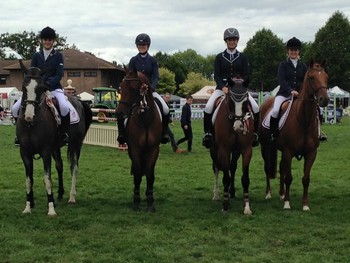 Bristol & Somerset Area will be putting two teams into the National Team Competition
- Wales & West - Sunday 19th June
- Bicton Arena - Sunday 26th June
Please contact Olivia March, Hannah Thorne or Helen Anderson to register your interest.
Final team selection will be made by Friday 10th June 2016, team selection will be based on current form.
We will be looking for 4 riders on Grade C horses (not on the Silver League as at 31st March 2016) to compete over a height of either 90cm or 1m, and 4 riders on any grade horses to compete over a height of either 1.10m or 1.15m, we are looking for riders that are confident in a 1.20m Jump Off, these riders also must not be on the Gold list as at 31st March 2016. Please Note: Only one team can qualify for the Final at The National Championships in August, Members in the Qualifying Team are expected to attend the final; a contribution towards travel to the final can be offered. Bristol & Somerset pay all entries but also collect all prize money.
Selected Teams:
Wales & West - 19th June
Bicton Arena - 26th June
Lucy Hicks - Medley Marrakesh
Mollie Smith - Billy Brown
Olivia March - The Bear Necessity
Ellie Gibbs - Cymbeline
Jess Wyatt - Gloriagrey
Mollie Smith - Billy Brown
Hannah Thorne - My Rebel Yell
Sam Rundle - Tanto