National Team Jumping Championship
Saturday 12 August 2017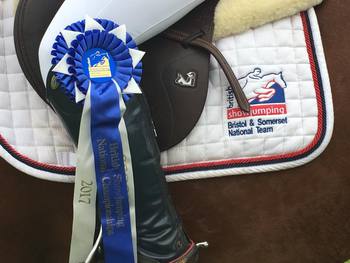 The National Team Jumping took centre stage in Arena 3 at the British Showjumping National Championships, held at the NAEC Stoneleigh in Warwickshire.
The Bristol & Somerset Team of Nicola Foad (Millwoed Raffiki), Harriet David (Talisman XXII), Jane Gregory (Pop Larkin) & Katie Thomas (LLF Marbella) were in great form producing Clear after Clear to leave us in equal first after two rounds.
The pressure was on as Jane Gregory headed into the jump off (first to go), but it wasn't to be as she finished on 4 faults and South West Scotland producing the valuable clear to win.
But a Fantastic Result to still finish Second!
The national teams consist of four competitors with the fourth competitor named as captain. Teams attend as many qualifiers as they wish until they qualify. Qualifying classes take place throughout May, June and July. Team members may change throughout qualifying however the team that qualifies must remain the same for the final. All four horses must jump at a different heights, 90cm, 1.00m, 1.10m and 1.15m. The horses jumping at 90cm and a metre must be at the start of qualifying registered at Grade C and those jumping 1.10m and 1.15m can be registered at any grade.