KBIS Insurance Senior British Novice Second Round at West Wilts Equestrian Centre
Tuesday 30 June 2015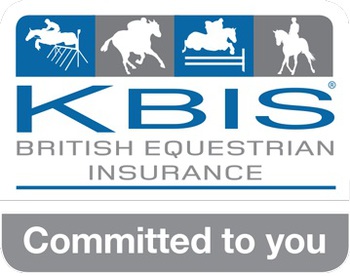 The eighth KBIS Insurance Senior British Novice Second Round of 2015 took place on Saturday at West Wilts Equestrian Centre in Holt, Wiltshire and the class proved to be well-fought by the sixty-three combinations that came forward.
Each and every combination started out with the aim of producing a treble clear as this would secure them a place in the Championship Final, which will be held during this summer's British Showjumping National Championships.
In a twenty-seven horse jump off, the treble clears came thick and fast with sixteen being delivered in total. Kerry Grimster from Maidenhead, Berkshire delivered the fastest of these treble clears on board her own 6 year-old black mare Moonlight VI.
When asked about her final round, Kerry said "I am really pleased with Moonlight's performance as she is only a 6 year-old so the class was very much a learning experience for her. We were drawn late to go in the jump off and I had seen that other people had opted for steady rounds to gain their final clear. This gave me the opportunity to take some chances with the turns."
Kerry's tactics paid off in that final jump as the combination produced their third and final foot perfect round in just 35.90 seconds, 5 seconds ahead of their nearest rivals.
Fiona Hobby from Pewsey, Wiltshire took second with Jason Howlett's 6 year-old chestnut gelding High Velocity Vega. Fiona and her ride had held the lead for the majority of the jump off after being drawn sixth to go, but their treble clear in 40.98 seconds was to be beaten.
Third place was taken by Leonne George from Chippenham, Wiltshire on her own 8 year-old dark bay mare Champagne V. This combination delivered a third solid round in 41.83 seconds.
A total of sixteen combinations from this second round will now go forward to the KBIS Insurance Senior British Novice Championship Final.
West Wilts Equestrian Centre – Saturday 27th June 2015
KBIS Insurance Senior British Novice Second Round
1st Kerry Grimster & Moonlight VI – 0/0/0 – 35.90 seconds
2nd Fiona Hobby & High Velocity II - 0/0/0 – 40.98 seconds
3rd Leonne George & Champagne V – 0/0/0 – 41.83 seconds
4th Rebecca Wright & Leotie Ve – 0/0/0 – 42.44 seconds
5th Miranda Bates & Acolido – 0/0/0 – 42.81 seconds
6th Elizabeth Whittle & Verloka WP Z – 0/0/0 – 43.71 seconds
7th Lilly Hemmings & Ramiro Shooting Star – 0/0/0 – 45.03 seconds
8th Anna De Verteuil & Query Du Buisson Z – 0/0/0 – 45.09 seconds
9th Claire Chambers & Meacham Quickstep – 0/0/0 – 45.50 seconds
10th Milli Cornock & Calcourt Quattro - 0/0/0 – 46.83 seconds
11th Craig Hills & Radihaza Corsa – 0/0/0 – 47.53 seconds
12th Sally Crane & Cortynan Girl – 0/0/0 – 49.58 seconds
13th Lynsey Parnham & Catokio – 0/0/0 – 50.04 seconds
14th Kirsty Pearce & The Architect – 0/0/0 – 52.18 seconds
15th Carla Phillips & Lux Diva – 0/0/0 – 52.46 seconds
16th Sarah Knight & Cardhu – 0/0/0 – 52.48 seconds
NB: Qualifications will be updated pending official grading of results.
The British Showjumping National Championships 2015 will be hosted at the National Agricultural and Exhibition Centre (NAEC), Stoneleigh Park, Warwickshire during the 11th – 16th August.
KBIS British Equestrian Insurance:
KBIS British Equestrian Insurance is the UK's leading independent horse insurance specialists, With over twenty years of experience KBIS offer a range of policies for the leisure horse to high value sports horses with a range of veterinary cover options. KBIS's product range includes horsebox and trailer insurance, property insurance, event and show insurance, standalone personal accident cover as well as a specialist liability department offer cover for private individuals, businesses and events and shows. For further information, visit www.kbis.co.uk.