June Darby Nuttall – Obituary
Tuesday 20 January 2015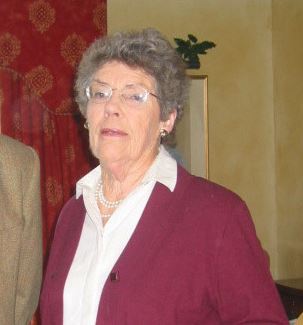 June Darby Nuttall
(12.6.1921 – 20.12.2014)
This month saw mourners say their final goodbye to June Darby Nuttall (nee Philips), Honorary Vice President of British Showjumping, at Thomas a Beckett Church in the Somerset village of Pylle.
Born at Colshaw Hall in Knutsford, Cheshire it was clearly apparent from a very early age that June was going to share her parents passion for horses and riding. Early photographs show June sitting on Fabian, a family Shetland, well before she could walk.
A fearless rider from a very young age, she enjoyed Showjumping success with her pony 'Little Tim' and this love of the sport never faded. The early 1960's saw Jack Talbot-Ponsonby, a well-known international course designer at the time, introduce June to the art of course building. Through Jack, June became involved with The All England Jumping Course where former International showjumper Pam Carruthers and principal course designer encouraged June to take on the responsibility for designing courses in the Foxhunter ring.
The early 1980's saw June take on the role of Regional Representative for the South West for almost two decades in addition to also taking the one of Area Representative for Somerset and sitting on the British Showjumping Executive Board on more than one occasion. A registered British Showjumping Judge, she officiated at many of the country's major shows and over the years helped many on their path to officiating at national and ultimately international level.
Renowned for her 'formidable' sense of humour, opinions and strength of character she was also extremely approachable, well informed and highly respected. June knew the sport from every angle and was extremely passionate in the way that it progressed, giving her time freely and never missing a meeting unless it absolutely unavoidable. In recognition of this, British Showjumping invited her to accept the role of Honorary Vice President at the start of the year 2000; a position which June accepted gladly.
Married twice before, she was a widow when she met Tony Nuttall with whom she had a 40 year partnership, enjoying an exciting social network of friends, parties, hunting and Showjumping. Their home at Hedge Farm became affectionately known to friends and family as 'Nut Hall' due to the constant banter and humour that guests would very quickly need to become accustomed to.
June continued living life to the full right up to her 93rd birthday and with her love for the sport having filtered down through the generations, last year was a particularly proud one for her when grand-daughter Harriet competed on the senior British Team at Hickstead amongst other Nations Cup appearances.
British Showjumping would like to extend their sincere condolences to the family whom she leaves behind, daughter Susan Stephenson, son Michael Kingscote and step-son Rupert Nuttall.