Harriet Tutt from Somerset Wins the NAF Shining Star Award for January
Thursday 06 February 2014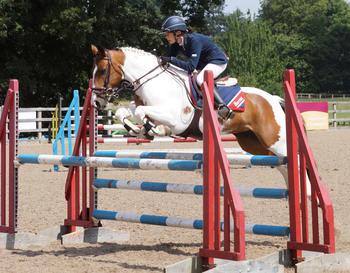 Young showjumper, Harriet Tutt from Somerset has won the NAF Shining Star Award for January 2014. Aged thirteen, Harriet has already proved to be an active and dedicated member of the British Showjumping Bristol and Somerset Junior Academy.
Jayne Smart, Lead Coach for the Academy, nominated Harriet for the NAF Shining Star Award. Jayne had the following to say about her nominee "Harriet would be a credit to any of the British Showjumping Academies. She is not only a nice rider, but she is always happy and smiling. Harriet often turns up before her riding sessions and stays right until the end. She also helps with the jumps, poo picking and generally anything that's needed! Harriet is a pleasure to teach, always attentive and always tries her best, even when she may be struggling. She has exactly the attitude we need in our Junior Academy!"
Harriet has been riding since she was a 5 year-old and she has been a member of British Showjumping since August 2008. Harriet began completing the NAF Pony Five Star Performance Awards Programme in 2012 and has successfully completed her 1*, 2 * and 3* Awards and is actively working towards attaining her 4*.
Harriet has enjoyed the opportunities that have been available to her since joining British Showjumping "I got involved with the Bristol and Somerset Junior Academy because I wanted to make the most of the training sessions and to make new friends. The opportunity to compete on the academy team(s) was also a major factor in my decision to join. Via the Junior Academy, I am also working through the NAF Pony Five Star Performance Awards Programme as it gives me focus to achieve my riding goals and I am currently working towards my 4*.
"I was really pleased to hear that I had won the NAF Shining Star Award and I want to thank everyone who has been helping and supporting me, especially my coach Jayne Smart, my mum Alison, my dad Simon and of course my two ponies."
"For 2014, my plan is to try and qualify for the Alexanders Horseboxes British Showjumping SCOPE Festival and Horse of the Year Show."
Tracey Lloyd, Marketing Manager for NAF commented "A well-deserved award for a highly commendable rider, congratulations Harriet."
The NAF Shining Star Award was introduced when NAF became a British Showjumping Business Partner. The award is for members of a Junior Academy who have shown a great deal of commitment, progression and outstanding behaviour along with their riding ability and much more. Riders are nominated by their lead coach, and then judged and awarded by NAF to one person each month.