Harriet Nuttall on high during Hickstead's Ladies' Day
Saturday 29 July 2017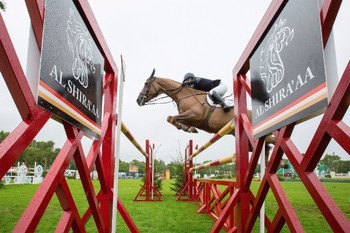 arriet has been one of Hickstead's most consistent performers in recent years, and in June she finished runner-up in the Hickstead Derby for the third consecutive year. But today she took her place at the head of the line-up, scoring her first international win here since taking the British Speed Derby in 2016.
"This win ranks alongside the Speed Derby," said Harriet. "I've never been on a horse where I've been in contention for the Queens Cup, this was the first time I felt I could win it."
The Queen Elizabeth II Cup used to be an international championship open to women riders only, but in 2008 it was changed to become a national final open to the highest-ranked male and female riders in the British Showjumping rankings.
Eight of the country's brightest talents went through to the jump-off in today's class, with Harriet making the most of being drawn last to go. Riding Galway Bay Jed, Harriet took every calculated risk and galloped to the last to finish on a time of 32.64sec, nearly 1.5sec ahead of her nearest rival.
"He's jumping very well at this level and he's really shown it today. He's a bit of an easier ride now than he used to be – he was a bit strong to start with and would run off after a fence," she said of the nine-year-old Irish gelding.
Harriet will be back in the International Arena tomorrow when she rides her Al Shira'aa Derby runner-up A Touch Imperious in the Longines King George V Gold Cup.