Harriet Nuttall 3rd in Sunshine Tour CSI 4* Invitational Grand Prix
Saturday 24 March 2018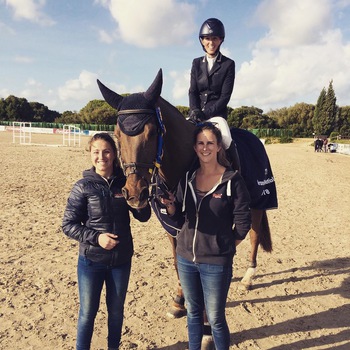 The fifth week of jumping at the Sunshine Tour in Vejer de la Frontera, Spain culminated with the Invitational Grand Prix taking place across a 1.55m track built by Italian course designer Uliano Vezzani.
The Grand Prix saw 50 of the best riders of the tour invited to compete and with €100,000 of prize fund at stake the jump off was both fast and hotly contested. It was Trevor Breen (IRE) with Bombay who took the eventual win in a time of 38.84 seconds with Karel Cox and Dublin van Overis taking 2nd in a time of 39.27 seconds.
The line up then saw two of GB's successful international female riders slot into 3rd and 4th place in the form of Harriet Nuttall on the consistent Galway Bay Jed and Holly Smith on Hearts Destiny. It was just a fraction of a second that separated the two with Harriet just edging ahead with her jump off clear in a time of 40.52 seconds over Holly's clear in 40.78 seconds.
Other Brits that had qualified for the jump off were Will Funnell with Billy McCain and young rider Harry Charles with Controe following his incredible GP win last week. Unfortunate penalty scores for them both in the jump off round however saw them finish in 10th and 11th place respectively.
For full results https://bit.ly/2G4TB4z