Hannah Bishop Shines Bright to become October's NAF Shining Star
Tuesday 08 November 2016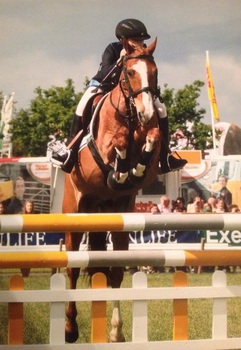 Continually flying the flag for the Bristol and Somerset Academy is 14 year-old Hannah Bishop from Pensford, Bristol and she has become the latest talented and deserving young rider to be awarded the NAF Shining Star.
Hannah was nominated for the award by Lead Coach for the Bristol & Somerset Academy, Jayne Smart, who had the following to say about her nominee "Hannah is an active member of our academy. She comes to all the training she can and always puts herself forward for teams of any description at shows big and small. She has nerves of steel and is a great number four in the team as she is able to produce that clear when we need it. She jumped clear at both Devon County and at Dorset County for us this year. On a wider scale she carries the academy flag all over the country, winning and being placed at shows such as the National Championships. She is a friendly, helpful and positive member of the academy and the whole family are involved. Hannah's Mum and sister are very supportive and they make a great team, setting a good example for younger ones coming into our academy."
From the outset, Hannah has shown herself to be independent, determined and competitive, eagerly following in her sister footsteps. She began riding at a young age and made her debut at the local Pony Club soon afterwards. Adamant to come off the lead rein as soon as possible, Hannah happily went off to tackle every obstacle in front of her and she went on to become a member of British Showjumping at the tender age of 10. There has been no stopping her since and with her current string of four ponies, she has had a busy year as a member of the county teams along with qualifying and competing all four ponies at the British Showjumping National Schools Championships at Stoneleigh this summer.
Upon finding out she had become a NAF Shining Star, a shocked Hannah said "I am really pleased and really surprised! As I make the move onto the larger 148cm ponies, everything I love about being part of the academy has helped me to do this, from being selected to compete in the teams at county shows right down to the training and especially the unmounted activities. I have to say a huge thank you to Jayne for nominating me and for all the work she does in the academy. I am aiming to get my double clears in Pony Newcomers and Pony Foxhunter and knowing I have the support of the academy is really lovely!"
Melissa Newman, NAF Brand Manager, added "It is very admirable to see how hard Hannah is working in order to do well within her sport, being a solid, likable and reliable representative across the country for her academy is wonderful. Academy members like Hannah are invaluable ambassadors for the sport, well done!"
Hannah will kindly receive some NAF equine products to use alongside the supplements that she currently uses.
The NAF Shining Star Award was introduced when NAF became a British Showjumping Business Partner. The award is for members of a Junior Academy who have shown a great deal of commitment, progression and outstanding behaviour along with their riding ability and much more. Riders are nominated by their lead coach, and then judged and awarded by NAF to one person each month.
NAF:
NAF is the most respected and trusted brand for supplements and applications for your horses in the UK today. Using proven ingredients and creating unique effective formulations NAF has an extensive portfolio of products designed to offer something for your horse's every need.
NAF are proud to be Official Suppliers to the British Equestrian Teams and Business Partners to British Showjumping supporting the NAF Five Star Training programme and the Shining Star Awards. Jessica Mendoza says "NAF have a great team of veterinary scientists and nutritionists, they are a big help to me and are there at the end of the phone with free advice if and when you need it, 0800 373106 or info@naf-uk.com."