Georgina Allison from Minehead, Somerset Wins the May NAF Shining Star Award
Monday 09 June 2014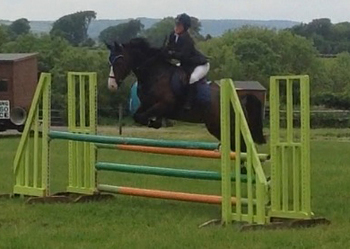 Young showjumper Georgina Allison, aged 14 from Minehead, Somerset has been awarded the NAF Shining Star for May 2014. Georgina is both enthusiastic and committed; two traits that she has shown on numerous occasions during her time as a member of the British Showjumping Somerset Junior Academy.
Jayne Smart, Lead Coach for the Academy put Georgina for the NAF Shining Star Award and she said of her nominee "Georgina is not only lovely to coach, but she always has a happy demeanour. She has worked hard producing her current ponies' right from the very start and in doing so; she now has two very nice rides for showjumping. Georgina recently gained her fourth double clear at both British Novice and Discovery in order to qualify for the second rounds."
"Georgina shows her support for the academy as she makes the long trip every Tuesday evening to come to training and she has also represented the academy as part of the team at the Devon County Show. Georgina really is a great example of a dedicated, hardworking rider – everything we wish for from our academy members."
Having ridden since the age of 3, Georgina first joined British Showjumping back in February 2011. In that time and since joining the Junior Academy, she has gained her 1* and 2* in the NAF Pony Five Star Performance Awards Programme.
Upon hearing that she had won this month's NAF Shining Star Award, Georgina said "I was shocked and excited to hear that I had won this amazing award, it's a proud moment for me and my ponies. I joined the academy as I would like to become a professional showjumper and I felt it was the best place to start due to all the great training we receive.
"I'd like to thank Jayne Smart, who has been a great help in bringing on my ponies and big thanks have to go to our academy co-ordinator Alison Tutt, she organises all of our training sessions. Of course, I couldn't be without my wonderful ponies Saving Tia Maria & Dakotadee."
Tracey Lloyd, Marketing Manager for NAF commented "Georgina has certainly earned this award, keep up the great work and congratulations!"
The NAF Shining Star Award was introduced when NAF became a British Showjumping Business Partner. The award is for members of a Junior Academy who have shown a great deal of commitment, progression and outstanding behaviour along with their riding ability and much more. Riders are nominated by their lead coach, and then judged and awarded by NAF to one person each month.
With over 25 years of experience in Equine Supplement formulation and manufacture, NAF is the most respected and well-known brand of supplements for horses in the UK today. Using proven ingredients found in nature and creating unique effective formulations we pride ourselves on our unparalleled commitment to quality. We believe in using only the best natural ingredients, which are fully traceable and are combined to create unique formulas by our team of veterinarian scientists and nutritionists. The result is an extensive range of products, which are designed to offer you something for your horse's every need.
NAF are Official Suppliers to the British Equestrian Teams and Business Partners to British Showjumping. The British Showjumping initiatives supported by NAF are the Five Star Performance Awards Programmes and the Junior Academy Shining Star Awards Scheme.