Emma Slater Jumps to Victory in the Speedi-Beet HOYS Grade C Qualifier at Royal Bath & West Show
Wednesday 03 June 2015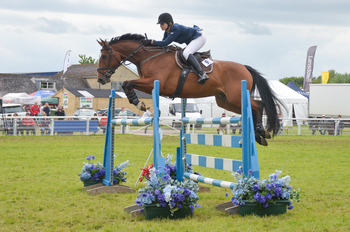 Congratulations to Jancey Wembridge who's horse Man From Del Monte (ridden by Emma Slater), won the Speedi-Beet HOYS Grade C Qualifier at Royal Bath & West Show, qualifying them for the Final, at Horse of the Year Show this October.
The fourth Speedi-Beet HOYS Grade C Championship Oualifier took place last Saturday (30th May) at the Royal Bath & West Show in Shepton Mallet, Somerset and it was contested by a total of thirty-four combinations.

Each competitor came forward with the aim of taking home one of the three sought-after direct qualifying tickets for the Speedi-Beet HOYS Grade C Championship Final, which will take place during Horse of the Year Show this October.

Spectators were treated to an exciting jump off after nineteen combinations delivered a first round clear in order to be able to progress into the final round. Competing against the clock, six riders steered their horses to a double clear result, which meant that the allocation of qualifying places was to be determined by the times recorded.

Emma Slater, aged 45, from Carey, Herefordshire took an early lead with Jancey Wembridge's 8 year-old bay gelding Man From Del Monte and the combination managed to hold on to their position after being the only pair to break the 43.00 second marker. Drawn as the fifth to go in the jump off, Emma ensured that her horse not only delivered an immaculate double, but did so in a fast time of 42.93 seconds.

Emma said after her round "I am over the moon with how 'Monty' went. He started off by giving me a lovely feel in the first round and with us being drawn fairly on in the jump off, I knew that I would have to push him against the clock and he responded beautifully. He made the fences seem smaller than they were today and showed great scope."

Second place was taken by 23 year-old James Emblen from Woking, Surrey and he was on board his own 10 year-old bay gelding Abon. This combination had the enviable draw of being last to go and they used this to their advantage in order to their double clear in a competitive time of 43.64 seconds. This result saw them slot comfortably in to the top two.

The third and final qualifying place went to 33 year-old Matthew Broome from Newport, Gwent with Hello Disckoboy D.N., a 7 year-old bay gelding owned by Lady Pauline Kirkham and Lady Pauline Harris. They produced their double clear in 44.82 seconds.

Royal Bath & West Show – Saturday 30th May 2015
Speedi-Beet HOYS Grade C Qualifier
1st Emma Slater & Man From Del Monte – 0/0 – 42.93 seconds
2nd James Emblen & Abon – 0/0 – 43.64 seconds
3rd Matthew Broome & Hello Disckoboy D.N. - 0/0 – 44.82 seconds

NB: Qualifications will be updated pending official grading of results.

Horse of the Year Show 2015 will take place from the 7th – 11th October 2015 at Birmingham's Genting Arena.

Image Credit: www.jayphotos.co.uk.

Speedi-Beet from British Horse Feeds:
British Horse Feeds, makers of Speedi-Beet, is the equine feed division of I'Anson Bros Limited and is based in Masham, North Yorkshire. British Horse Feeds is best known for its flagship product 'Speedi-Beet' which, thanks to the unique patented process has revolutionized the feeding of beet pulp. Speedi-Beet has improved nutrient availability and soaks in just 10 minutes, compared to 24 hours for sugar beet pellets. It's a great way to add quality fibre to your horse's diet for slow release energy. Fibre-Beet, a formulated blend containing Speedi-Beet and alfalfa has the benefits of Speedi-Beet with extra conditioning. Both Speedi-Beet and Fibre-Beet are approved by the Laminitis Trust.

For more information contact British Horse Feeds on 01765 680300 or visit our website onwww.britishhorsefeeds.com.