Chloe Reynolds Jumps to Victory in the SEIB Winter Novice Qualifier at Solihull Riding Club
Saturday 25 February 2017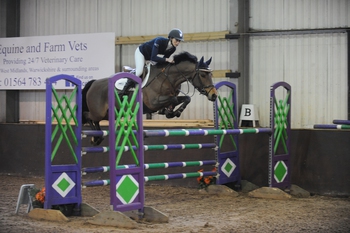 Chloe Reynolds from Bridgewater, Somerset pulled out all the stops to deliver a winning performance in Saturday's SEIB Winter Novice Qualifier at Solihull Riding Club in the West Midlands.
The huge starting line-up of seventy-nine keen competitors where all vying for one of the two qualification places on offer for the Championship Final which will be held at the prestigious Royal International Horse Show at Hickstead, West Sussex this summer. The first round saw nineteen combination produce a clear round to go through to the jump off, where only six competitors were able to replicate their form and produce a double clear leaving it up to the all-important clock to decide with winner.
Chloe Reynolds was drawn third to go on board Jane Reynolds 6 year-old bay gelding, Grenadier Volo. This partnership set the bar high producing a double clear in 38.40seconds and after a tense wait it proved to be truly unbeatable time as no other combination were able to break the 40 second barrier giving Chloe and Grenadier Volo a clear victory.
Second place was scooped up by Emily Davies who travelled from Bristol with Julie Milkins 6 year-old chestnut mare, Girl Power. This pair crossed the finish line on a double clear in 44.44 seconds.
Solihull Riding Club – Saturday 25th February 2017
SEIB Winter Novice Qualifier Results
1st Chloe Reynolds & Grenadier Volo - 0/0 – 38.40 seconds
2nd Emily Davies & Girl Power - 0/0 – 44.44 seconds
NB: Qualifications will be updated pending official grading of results.
SEIB:
SEIB Insurance Brokers formerly known as South Essex Insurance Brokers are in the top 75 brokers in the country and have been in business for over 50 years. SEIB Insurance Brokers specialise in niche markets and equestrian insurance is a large part of the business. Communication is an important key to the company's success and the ability to talk to people, explain policies and help with problems is regarded as its greatest asset and is the reason they have won many industry awards for customer care. SEIB Insurance Brokers have competitive rates for horse, horsebox, trailer, homes with stables, liability and anything else equestrian. Call for a quote on 01708 850000 or please visit www.seib.co.uk.