Britain's fastest-rising female stars dominate in Bunn Leisure Derby Trial
Friday 26 June 2015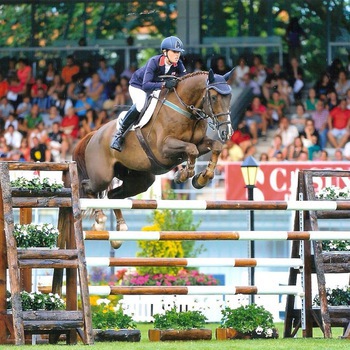 A huge class of Derby hopefuls came forward to compete in today's Bunn Leisure Derby Trial at Hickstead, with the top placings going to two of British Showjumping's most promising lady riders, Holly Gillott and Harriet Nuttall.

A total of 68 horses came forward for the €24,500 competition, from which the top 35 qualify for the Equestrian.com Derby, with seven combinations jumping clear to go through to the jump-off.
The first rider to come forward in round two was Robert Whitaker, who has been on a great run of form of late, but he picked up four faults on the stallion USA Today. Spencer Roe and Wonder Why, a combination who represented Great Britain at last year's FEI World Equestrian Games, then netted a steady double clear in a time of 68.63sec to set the standard.

Nigel Coupe and Golvers Hill, who were seventh in last year's Equestrian.com Derby, knocked more than 4sec off Spencer's time. They didn't hold pole position for long, however, as Harriet Nuttall – third in the 2014 Derby – duly shaved another two seconds off the target time to take the lead.

Peter Smyth and Douglas Duffin both picked up four faults apiece, leaving only Holly Gillott who could oust Harriet from the top spot. This she duly did, producing a fast clear on her Team GB horse Dougie Douglas to win in a time of 61.72sec.

"I always come second here!" said runner-up Harriet. "He's not the fastest horse so I knew Holly would beat me," she added, referring to her 11-year-old gelding A Touch Imperious.

Both Harriet and Holly have been regulars on Britain's teams this season – and indeed Holly has her sights set on the FEI Nations Cup series with her 10-year-old gelding Dougie Douglas. "I will not be jumping him in the Derby, but I'm hoping to be here for the Nations Cup next month," said the 26-year-old from Leicestershire. "It's the best ring in the world to ride in by a mile – my horse was loving it today."

But one rider who will definitely be coming back for another crack at the Equestrian.com Derby is Harriet. A Touch Imperious has proved he's more than capable of jumping round the famously fearsome course, but there's one jump that is set to prove the biggest challenge. "Riding my horse down the bank has to be the most daunting thing, he's 17.2hh so it looks even more huge from up there!" she said.

Harriet was also second in the British Speed Derby in 2014 with Silver Lift and she'll be one of the favourites for tomorrow's renewal. But while Holly isn't going for the Derby, she will be having a crack at tomorrow's Speed Derby and is one to watch.

"I've never ridden in the Speed Derby before – but I've got two horses in that class and I'm really looking forward to it," said Holly.

Harriet was once again runner-up in the afternoon's main class, the Bunn Leisure Hickstead Master's Challenge, which was won by Guy Williams and Casper De Muze. Guy was victorious in Thursday's Derby Tankard so he's having a superb week – and he, like Harriet and Holly, will be one to watch in tomorrow's Speed Derby.

In the showing classes, top producer Jayne Ross won the supreme cob championship with the prolific Cob In Hood; while the mountain and moorland supreme championship went to Alex Baxter and the fell pony Townend Candyman.