Bristol & Somerset Academy Show
Sunday 01 October 2017

At Chard Equestrian Centre
Another successful Area Show complete!
Thank you to Gloucestershire, Wiltshire, Devon & Dorset for joining us for the weekend... Sorry we had to beat you
?? (Re-match at Summerhouse in a couple of weeks)
Thank You to Alison Tutt & Jayne Smart for all their hard work with the Academy.
John Webb & Anne in the office, Jamie Perryman for some amazing courses, Judges, Julia Down, Anne Newbery, Di Forward & Tracy Harding.
Lindsay Opperman & Louise Pickles on collecting ring & without doubt our hard working Academy Members on Arean Party & Collecting Ring Harriet Tutt, Emily Smart, Jessica Browning & Lucy Pickles.
Thank You Emma & Lorraine from Kitchen at Chard for keeping us feed & watered thought the weekend.
It's really enjoyable to come home from an Area Show & see all the positive posts about the show & the amazing venue that is Chard Equestrian.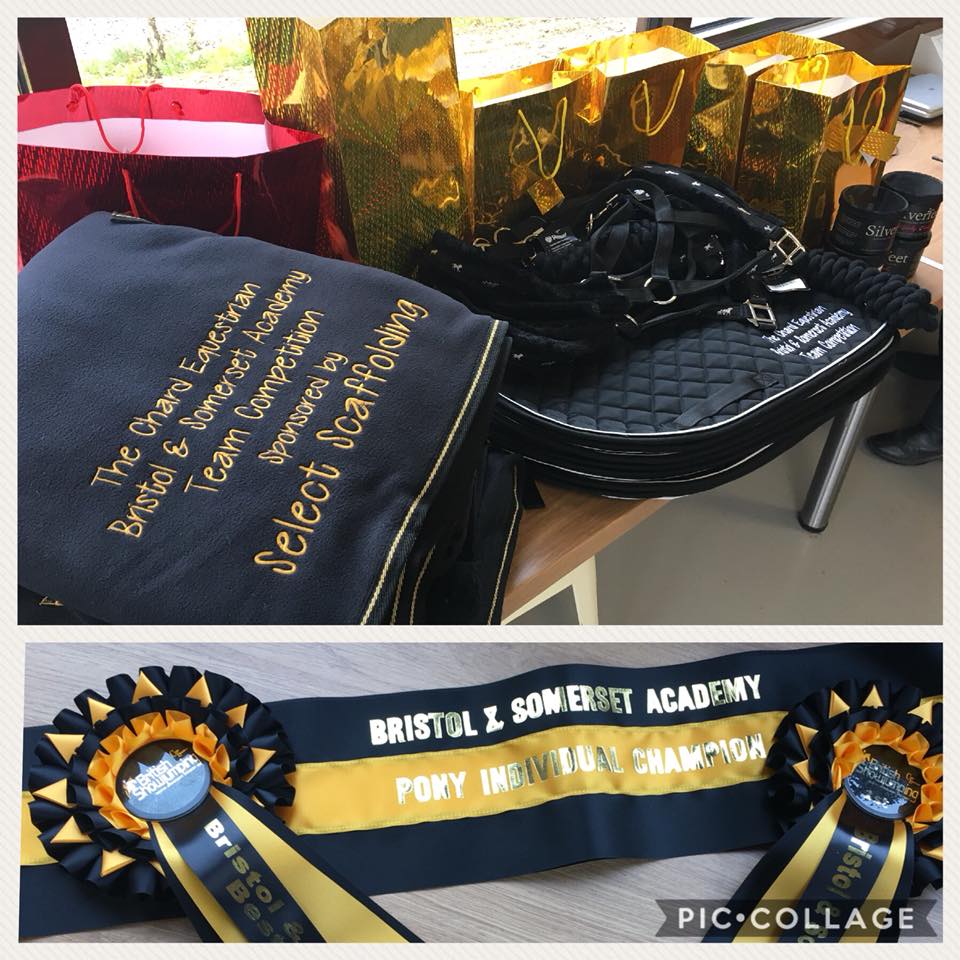 The Chard Equestrian Bristol & Somerset Academy would like to Thank all our Sponsors:
Ø Chard Equestrian
Ø Pro-Motion Equine
Ø The Opperman Family
Ø Wyatt Horse Feeds
Ø Aldwick Court Farm
Ø Cooper & Tanner
Ø Select Scaffolding
Ø Greenslade Taylor Hunt
Ø Matt Lyon Heating & Plumbing
Ø Andrew Gillings Removals
---
Ok so here goes my evening of thank you's! ......we had a really good weekend of jumping AND socialising at our very generous sponsor Jane Gregory's Chard Equestrian Centre.

Her fabulous facilities get better and better. The horses appreciate that lovely school and surface, the riders appreciate such a competitor friendly office and the club house is the icing on the cake. Good food and a clean and comfortable place to watch - and I think saturdays evening's bingo just topped it off!

Thank you to our small squad of volunteers who helped it all to run so well.

Emily Smart, Harriet Tutt, Jess Browning and Lucy Pickles in the arena and Lindsay Opperman and Louise Pickles on the board, and the two people without whom this show would not have happened -

Alison Tutt, who has put in sooo much time taking names for teams, getting prizes and rosettes and generally keeping us all up to speed with what needed doing (on top of the HOURS she spends organising our very busy training schedule) and

Katie Smith our very own bingo calling area Rep, who puts in hours and hours of unpaid time, keeping the area running smoothly. I don't think people realise just how much she does behind the scenes. Our area would be a lesser place without her.

Lots of people have already said a lot of this but I felt it only right that I did too!!

Lastly thanks to all the riders and their families for making it all happen and worthwhile running again next year..... watch this space!!

Jayne Smart - Bristol & Somerset Academy Lead Coach