Anna Edwards Wins the Penultimate Speedi-Beet HOYS Grade C Qualifier at Pembrokeshire County Show
Thursday 20 August 2015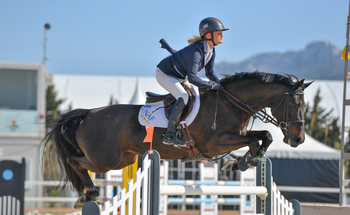 The penultimate Speedi-Beet HOYS Grade C Qualifier of this year was held yesterday at the Pembrokeshire County Show and thirty starting combinations set out with the aim of securing one of the last few places in the Championship Final.
Up for grabs at this qualifier were three direct qualifying tickets for the Speedi-Beet HOYS Grade C Championship Final at Horse of the Year Show and competition was fierce as each starter battled it out for one of the coveted qualification tickets.
In a nine horse jump off, five combinations went on to deliver a second clear round and this was to see the clock become influential in deciding the allocation of the qualification places.
Anna Edwards from Clevedon, Avon took her Championship place following a win on Bina Ford's 7 year-old dark bay mare Darling. Their double clear in 31.87 seconds saw them just pip their nearest rivals by just 0.05 seconds.
Second place went to Sian Edwards from Bridgend, Mid Glamorgan and she was on board Philip Price's 8 year-old chestnut mare Adriarna. This combination produced their second foot perfect round in 31.92 seconds.
The third and final qualification ticket was secured by Bryan Smith from Malvern, Worcestershire on Elizabeth Coles' 10 year-old bay gelding Dungimmon Sunrise. A double clear in 33.07 seconds saw this pairing take their place inside the top three.
Pembrokeshire County Show – Wednesday 19th August 2015
Speedi-Beet HOYS Grade C Qualifier Results
1st Anna Edwards & Darling – 0/0 – 31.87 seconds
2nd Sian Edwards & Adriarna – 0/0 – 31.92 seconds
3rd Bryan Smith & Dungimmon Sunrise – 0/0 – 33.07 seconds
NB: Qualifications will be updated pending official grading of results.
Horse of the Year Show 2015 will take place from the 7th – 11th October 2015 at Birmingham's Genting Arena.
Speedi-Beet from British Horse Feeds:
British Horse Feeds, makers of Speedi-Beet, is the equine feed division of I'Anson Bros Limited and is based in Masham, North Yorkshire. British Horse Feeds is best known for its flagship product 'Speedi-Beet' which, thanks to the unique patented process has revolutionized the feeding of beet pulp. Speedi-Beet has improved nutrient availability and soaks in just 10 minutes, compared to 24 hours for sugar beet pellets. It's a great way to add quality fibre to your horse's diet for slow release energy. Fibre-Beet, a formulated blend containing Speedi-Beet and alfalfa has the benefits of Speedi-Beet with extra conditioning. Both Speedi-Beet and Fibre-Beet are approved by the Laminitis Trust.
For more information contact British Horse Feeds on 01765 680300 or visit our website onwww.britishhorsefeeds.com.