Anna Edwards puts in a Darling performance in the Connolly's RED MILLS Senior Newcomers Championship
Wednesday 07 October 2015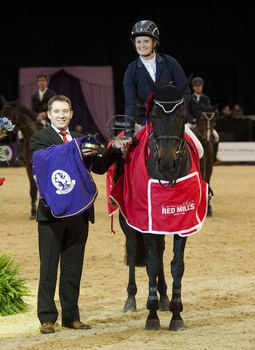 Congratulations to Anna Edwards who has just won the Connolly Red Mills Senior Newcomers Championships at HOYS, on her own & Bina Ford's Darling.
---
West Country rider Anna Edwards produced a stylish performance to win the Connolly's RED MILLS Senior Newcomers Championship on day one at Horse of the Year Show in Birmingham.
Edwards, from Clevedon in North Somerset, is no stranger to success on the British Showjumping circuit, with her career portfolio including victory in Hickstead's prestigious Queen Elizabeth II Cup class.
A high-class producer of young horses, Edwards delivered the goods on her own and Bina Ford's seven-year-old black mare Darling as she claimed a comprehensive triumph.
Their jump-off time of 36.04 seconds secured victory by more than five seconds from Phillip Miller and Roulette H, while Annabel Shields (ABC Quantum Cruise) was third and Jessica Botham (Danny V) fourth.
Edwards and Miller were the only two riders to go clear in both rounds.
Audio link to Anna Edwards winner of the Connolly's RED MILLS Senior Newcomers Championship
Photo credit: Lewis Harding Photography