Alice & Harriet Storm Hickstead
Saturday 27 June 2015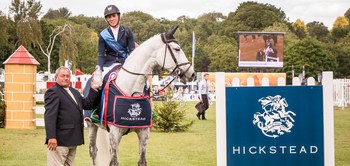 In a repeat of the 2014 results, Guy Williams and Casper de Muze won the British Speed Derby today at Hickstead, beating Harriet Nuttall and Silver Lift. Such was his prowess against the clock, Guy ended up beating the course record set by Irish rider Shane Breen in 2008. He also became the first rider to take the title for a fourth time.

A total of 30 horses came forward for to tackle the Speed Derby course, which includes a number of Hickstead's permanent obstacles such as the road crossing, the Irish bank and the less steep side of the Derby bank. Riders have to race round the long and winding course at top speed, with any fences knocked down adding 4sec to their time.

Holly Gillott, who beat her fellow Team GB teammate Harriet Nuttall in yesterday's Bunn Leisure Derby Trial, held the lead in the class for some time before Harriet, drawn 23rd, produced a superbly quick round on her 10-year-old gelding to take pole position. Even with a fence down adding 4sec to her tally, her total time of 92.38sec looked pretty impossible to beat.

But that 4sec penalty proved costly when the penultimate rider Guy Williams rode into the ring on his 2014 victor Casper De Muze. He produced an effortlessly fast round to shave less than half a second of Harriet's time to take the €8,085 first prize.

"Casper is unbelievably fast," said Guy, who explained that the 1.45m class was well within the 13-year-old gelding's capabilities. "He just doesn't even have to try, and he deserves to win," he added.

For 25-year-old Harriet Nuttall, it was a case of 'always the bridesmaid', having finished second in this class two years running as well as taking the runner-up spot in yesterday's Bunn Leisure Derby Trial as well as the Hickstead Master's Challenge. "I knew it was going to be a challenge to beat Guy but I really thought I had him this year," she said. "I thought – I've done it, I'm lightning fast." But sadly for Harriet, it wasn't quite enough. "I'll be back every year until I've won it!" she added.

Harriet is one of the favourites for tomorrow's €140,000 Equestrian.com Derby, having finished third with A Touch Imperious in 2014, while Guy – who won the class in 2010 – has two rides in the Derby. Irish rider Trevor Breen is also double-handed, with last year's winner Adventure De Kannan as well as Loughnatousa WB, who won in 2012 with former rider Paul Beecher. Phillip Miller and Caritiar Z, winners in 2013 and runners-up last summer, are another pair to watch.

An estimated 15,000 showjumping fans are set to flock to West Sussex to watch the Equestrian.com Derby tomorrow afternoon, while the action will be televised live on Horse & Country TV (Sky 253 in the UK and Ireland) as well as being broadcast online to a worldwide audience at Hickstead.tv.

Alice Watson takes home the Trophy
Alice Watson secured a career best win today when claiming the honours in the Tom Hudson Derby Trophy. Riding her own 10-year-old grey mare Billy Lemon, she produced a fast double clear to head off competition from Ireland's Cian O'Connor.

"I know she's quick, I've just got to try to put her in the right places and she'll try for me," said Alice. "She felt unreal, she loves that ring and is a bit of a show-off. People tell me she's the most spoilt horse in the world and she probably is. But I don't care if she performs like that!"

Alice had a non-equestrian upbringing, and started adding to her stable when she was 16 years old, buying a pony for just £150 that she sold for a small profit at a later stage. She did that a few times until she had enough put aside to buy a quality young horse who would go on to become her biggest star – Billy Lemon.

"That's the great thing about this game – what other sport can you compete against the world's top riders when you don't even have a world ranking? And it's all thanks to Billy Lemon. I just need more horses now to take the pressure off her a bit as wherever we go we have to win our entry back and bit more to pay for the next."

The wins are coming in quick succession for Alice, after she also rode Cudandsa M to first place in the Hickstead 1.35m Open.

In the showing, Jordan Cook won the Alltech Supreme Hack Championship with his own 14-year-old Fleetwater Xecutive, while the Osborne Refrigerators Scurry Driving Championship went to Jemma Millman and her prolific pair Eeyore & Piglet.