Adrian Whiteway wins the SEIB Winter Novice Qualifier at The College Equestrian Centre, Keysoe
Wednesday 13 February 2019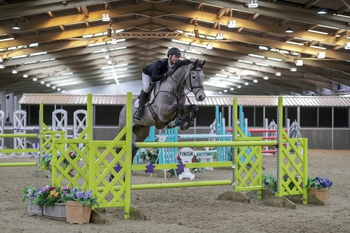 The College Equestrian Centre, Keysoe in Bedfordshire played host to a number of winter qualifiers over the weekend and this included a SEIB Winter Novice Qualifier on Sunday morning. Forty competitors came forward with the hopes of claiming a qualifying ticket and it was Adrian Whiteway from Wraxall, Bristol who took the win.
Twelve of the initial starters jumped clear around David Cole's first round track and with just two qualifying places on offer for the Championship at the Royal International Horse Show, Hickstead, West Sussex in the summer, it was all down to the clock when nine horses jumped a double clear.
On board Katherine Kneen's 9 year-old French-bred bay roan gelding, After Dark Mullentine, Adrian galloped ahead of his rivals to cross the finish line 2.55 seconds ahead of his opponents, clocking a time of 34.27 seconds.
Emma-Jo Slater was the only competitor to come close to Adrian's time. She piloted Jassy Pyke's 8 year-old British-bred chestnut gelding, Bon Amego into second place when crossing the line in 36.82 seconds. In doing so, Emma-Jo claimed her second ticket to the Championship after picking up her first at Onley Grounds Equestrian Complex in January with Jaguar De Saint-Pierre.
The College Equestrian Centre, Keysoe – Sunday 10th February 2019
SEIB Winter Novice Qualifier Results
1st Adrian Whiteway & After Dark Mullentine – 0/0 – 34.27 seconds
2nd Emma-Jo Slater & Bon Amego – 0/0 – 36.82 seconds
NB: Qualifications will be updated pending official grading of results
Image: Adrian Whiteway & After Dark Mullentine in action in the SEIB Winter Novice Qualifier at The College Equestrian Centre, Keysoe (IMAGE CREDIT: Hoofprints)