Adrian Whiteway is victorious in the Connolly's RED MILLS Senior Newcomers Second Round at Bicton Arena
Tuesday 30 May 2017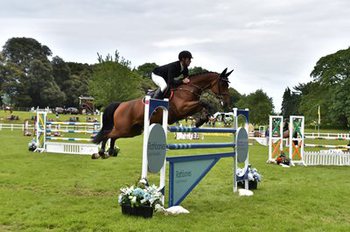 In the glorious sunshine on Sunday at Bicton Arena in Salterton, Devon, Adrian Whiteway secured victory in the Connolly's RED MILLS Senior Newcomers Second Round.
With two qualification spots on offer for the Connolly's RED MILLS Senior Newcomers Championship Final, which will be held during this October's Horse of the Year Show, a bumper crop of 110 keen starters had their eyes firmly on the top prizes.
The first two rounds posed some tough questions, leaving just nine horses and riders to go forward to the final jump off, where only three combinations went on to claim a treble clear against the all-important clock.
Adrian Whiteway from Wraxall, Bristol jumped firmly in to first place on board Boavista Delsendam, an 8 year-old bay gelding owned by Leonne George. This partnership had speed on their side as they took on the challenges of the jump off to cross the finish line with all the fences still standing in 43.68 seconds.
Taking home second place was Donna Callaghan from Axbridge, Somerset riding Ashley Callaghan's 7 year-old chestnut stallion, Freek VT Scharenborg. This pair claimed their treble clear in a time of 47.23 seconds.
The riders and horses that finished in third to fifth took home the chance to compete in the Connolly's RED MILLS Senior Newcomers Masters at the British Showjumping National Championships.
Bicton Arena – Sunday 28th May 2017
Connolly's RED MILLS Senior Newcomers Second Round
1st Adrian Whiteway & Boavista Delsendam – 0/0/0 – 43.68 seconds
2nd Donna Callaghan & Freek VT Scharenborg – 0/0/0 – 47.23 seconds
3rd James Wilson & Gossip S A – 0/0/0 – 48.42 seconds
4th Kathryn Ellison & Cherokee Bay – 0/0/4 – 45.15 seconds
5th Angela Thompson & Fremont VDL – 0/0/4 – 46.46 seconds
NB: Qualifications will be updated pending grading of results.
Image Credit - ESP Photographic
The Horse of the Year Show 2017 will take place from the 4th – 8th October at Birmingham's NEC. The British Showjumping National Championships 2016 will take place during the 8th – 13th August at the National Agricultural and Exhibition Centre (NAEC), Stoneleigh Park, Warwickshire.
Connolly's RED MILLS:
Connolly's RED MILLS is an Irish family owned company, providing precision nutrition for a wide range of equine needs. The company was established in 1908 in Co. Kilkenny, and today, exports to over 50 countries worldwide. For people who value their horses as high performers, Connolly's RED MILLS has been the automatic choice for over 100 years. We know just what it takes to get you the best results in terms of equine nutrition, health, well-being and performance. Some of the most successful high-performance sport horses in the world have been fed on Connolly's RED MILLS and we are delighted to launch our new dedicated Sport Horse range of feeds. The quality products that produce these results are supported by nutritional research along with some of the most technologically advanced innovation and manufacturing processes in the world. For further information, please visit www.redmills.co.uk/Horses/Home.