Area Points Terms and Conditions 2018
Thursday 08 February 2018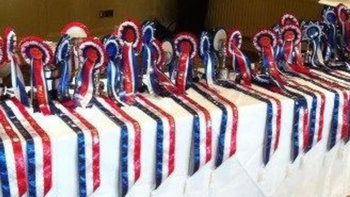 BS Area 14 Points
The first Area 14 show of 2018 run by Greenlands Equestrian Centre took place on the 26th/27th Jan - this was your first opportunity to gain points for the year. Greenlands also ran the second show of 2018 on the 2nd/3rd Feb.
2018 looks to be a busy year for shows in Area 14 so the points league this year will be highly competitive…the more shows you attend the more points you are in with a chance of getting, and remember – points mean prizes!
The points for 2018 run from 1st Jan to 31st December 2018 and a presentation will be made to winners and runners-up at the 2019 Annual Presentation Dance (this years is being held on 10th February 2018 at The Halston, Carlisle).
Points are awarded as follows; 1st – 10, 2nd – 8, 3rd – 6, 4th – 4 and 5th – 2. In the event of classes being combined i.e Senior Discovery / 1m Open, points will be awarded as per placings, therefore if two sets of placings are awarded two sets of points will also be awarded. In addition, in the event of less than 5 prizes being awarded, points will still be awarded down the line providing you have jumped clear in the first round.
Points run for both Junior and Senior classes and up to date leader boards will be available on the Area 14 BS website and Facebook Page (please allow one week following a show for points to be updated).
N.B overall winner and runner-up prizes are only available to members of Area 14 and Area 14A.